African clergy in U.S. hold annual convention in Randolph
---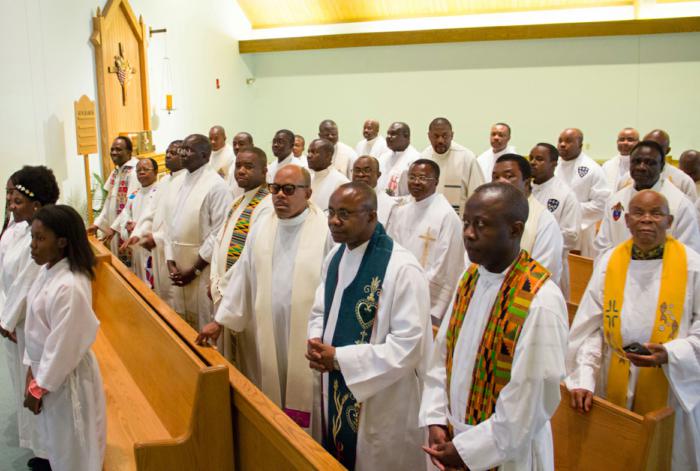 African clergy gather at the closing Mass of the convention held July 31 at St. Mary Parish in Randolph. Pilot photo/Christopher S. Pineo
RANDOLPH -- Cultural and social challenges to the traditional family on a global and national scale, impact the families of African immigrants to the United States in a unique way, according to organizers of the annual convention of the African priests and religious in the U.S. held in Randolph last week.

The annual convention of African Conference of Catholic Clergy and Religious in the United States ran from July 28 through Aug. 1 with the theme of "Rediscovering the vision of family morals and values" with a focus on the experience of the family from the perspective of African immigrants to the United States.

With a scheduled September visit by Pope Francis to the United States for the World Meeting of Families in Philadelphia and international events on the theme earlier in the year, organizers said they were following the example of the larger Church by focusing on the family.

"In response to the Church's desire to turn her gaze once more to the state of the human family and to evaluate, with new vigor, her pastoral approach to the evolving dynamics that continue to define the human family in the modern world, the organizers of this convention deemed it worthy to tread in the footsteps of Holy Mother Church," conference president Father Henry Atem said in a Thursday speech.

Speakers at the event addressed the subject of families in general, and families of the immigrant community specifically.