Stained-glass windows tie Marlborough sisters to Dorchester Catholic school
---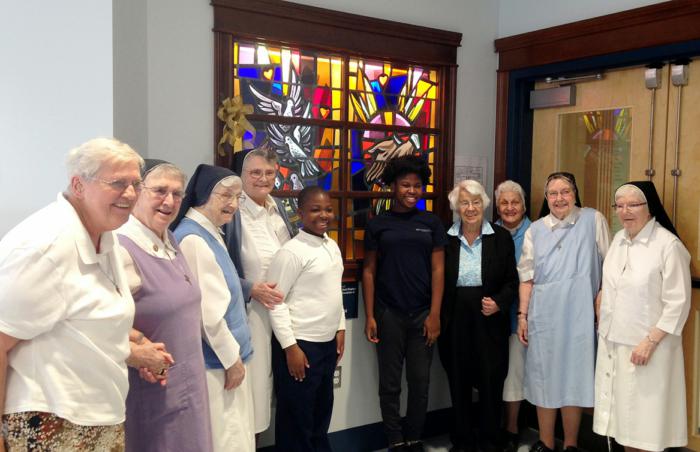 Pictured left to right are: Sister Kathleen Gingras, Sister Ann Roussel, Sister Virginia Agnes Turinese, Sister Theresa Stanek, Christian Guerrier (grade 4), Keisha Dornevil (grade 7), Sister Victoria Andreoli (past province leader), Sister Elizabeth Correia, Sister Dorothy Margaret Brown, and Sister Agnes Rose Richardson during the sisters' visit to St. John Paul II Catholic Academy in Dorchester. Pilot photo/courtesy Cummings Foundation
DORCHESTER -- Eight of the Sisters of the Good Shepherd, ranging in age from 74 to 94, recently made a rare trip from their convent at New Horizons in Marlborough to St. John Paul II Catholic Academy in Dorchester.

They were invited to a ribbon cutting ceremony for the repurposing of two salvaged 55-year-old stained-glass windows that now brighten the academy's media center.

During the Academy's rebuilding campaign last year, New Horizons donated the colorful windows, which were originally commissioned from award-winning artist and Lithuanian refugee Albinas Elskus for the chapel at Madonna Hall School for Girls. New Horizons saved the windows after purchasing the Madonna Hall property from the Sisters of the Good Shepherd in 1993.

When Mary Flynn Meyers, vice president of the Development Campaign for Catholic Schools, discovered the special connection the sisters had to the windows, she promised to invite the sisters to see them when they were installed in the academy.

In May, she made good on that promise, giving the sisters the opportunity to be among students once again and to see the windows of their former chapel sparkling in their new home.

"We were received like royalty," said Kathy Chinappi, RN, lay administrator for the convent for almost 15 years, who accompanied the sisters. "Everyone was so welcoming. The stories our hosts shared, the students we met, and the school itself were ever so impressive."