Large crowds expected for veneration of St. Padre Pio relic
---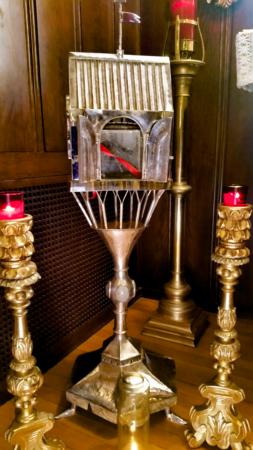 The reliquary containing the heart of St. Padre Pio is pictured Sept. 20 after being brought to Boston by Capuchin friars from the saint's shrine in San Giovanni Rotondo, Italy. Pilot photo/ Donis Tracy
BRAINTREE -- Though there's no way to know for sure, if advance inquiries are any indication, there could be some very large crowds at Boston-area locations hosting the relic St. Padre Pio this week.

The heart of St. Padre Pio will available for veneration in the Boston area from Wednesday, Sept. 21 to Friday, Sept. 23 in the Archdiocese of Boston.

"We anticipated that there would be a good amount of interest from people in New England for this visit, but have been amazed by the number of people and groups that are planning on coming from outside of New England, as well," said Father Jonathan Gaspar, director of Divine Worship at the archdiocese and one of the organizers of the relic's visit.

"We know that there are groups traveling from New York, New Jersey and Philadelphia. We even heard from some people who are flying in from California just to be here in Boston when the relic is here," he said.

The first time any major relic of St. Padre Pio has been outside of Italy, the heart was brought to the Boston area by the Capuchin Friars who run the Shrine of St. Padre Pio in San Giovanni Rotondo, Italy Sept. 20. Boston is the only stop for the relic on this historic trip.