From Cardinal Seán's blog
---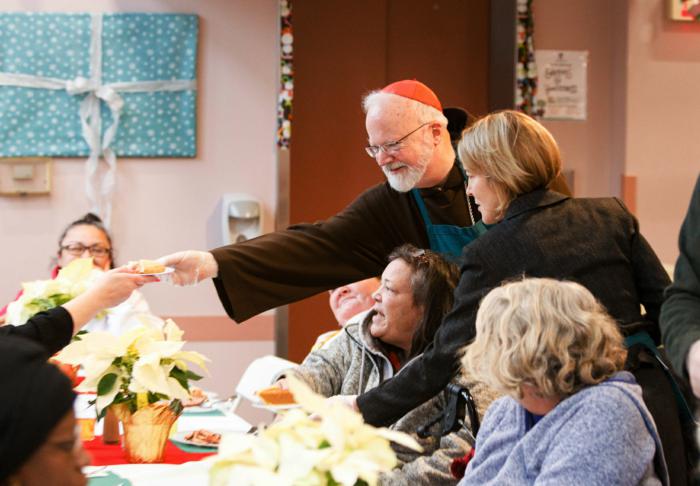 'From there, we went to visit Pine Street Inn, which is just down the street from the Cathedral of the Holy Cross.' Pilot photo/CardinalSeansBlog.org
...On Friday (12/23), I went to have lunch with the residents of Regina Cleri, our retirement home for priests in Boston. In addition to visiting with the men there, I also wanted to check in to see how Bishop Frank Irwin was doing after his recent operation. As always, the sisters did a wonderful job decorating Regina Cleri for the Christmas season. It was wonderful to be able to visit with our senior priests at Regina Cleri.

Visit to Teen Center

On Saturday morning, Christmas Eve, I went to the Catholic Charities' Teen Center at St. Peter's in Dorchester for their annual distribution of Christmas gifts to children, following a tradition started by the late Mayor Menino.

...We were also very happy to be joined by Boston Police Commissioner William Evans and Mayor Marty Walsh as well as a number of local priests, including the pastor of St. Peter's, Father John Currie, Father John Connolly, Father Jack Ahern and Father Doc Conway.

We are very proud of the fine work that goes on at Catholic Charities Teen Center. Paulo De Barros has been the director for some time, since he took over from Brother Tino, and does a marvelous job.

Visit to Pine Street Inn

From there, we went to visit Pine Street Inn, which is just down the street from the Cathedral of the Holy Cross. I was greeted by the executive director of Pine Street, Lyndia Downie, who showed me in and helped me get set up for the meal service.