Cardinal encourages pro-life pilgrims at D.C. Mass
---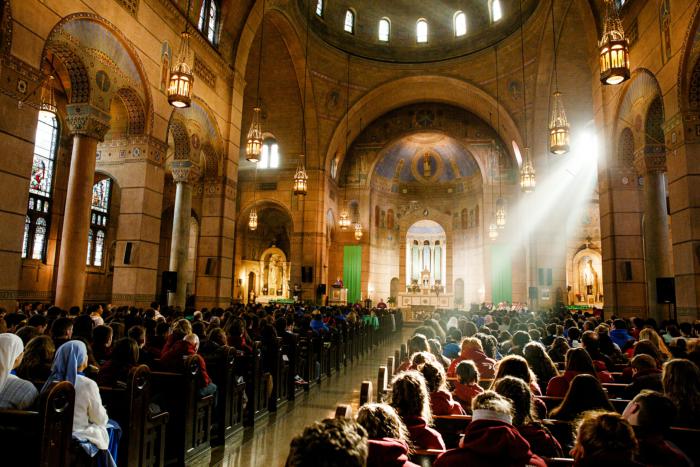 Cardinal O'Malley delivers his homily during the Mass at Sacred Heart Shrine in Washington, D.C. Pilot photo/Gregory L. Tracy
WASHINGTON -- During a Mass at the Shrine of the Sacred Heart in Washington, DC, just hours before the start of the 2017 March for Life, Jan. 27, Cardinal Seán P. O'Malley offered messages of encouragement to Boston pro-life pilgrims.

"My hope and my prayer for all of us here today is that we will know that God has put us here with a purpose," he said to the hundreds of people who had travelled from the greater Boston area to march.

"Choose life, take care of each other, don't be afraid of criticism -- be afraid of failing to embrace your vocation, your purpose, then your life will make a difference," he continued.

The Mass, celebrated annually by Cardinal O'Malley, is meant to unite the various groups travelling with the Archdiocese of Boston before the March of Life begins.

This year, around 1,000 people from the greater Boston area attended the Mass, including youth and young adults with the Office of Lifelong Faith Formation and Parish Support, parish groups with the Hispanic Apostolate, and seminarians from St. John's Seminary, Redemptories Mater Seminary, and Pope St. John XXIII Seminary.

The cardinal began his homily by recalling how several days earlier he administered the anointing of the sick to Pete Frates, a former Boston College baseball captain who was diagnosed in 2012 with ALS, also known as Lou Gehrig's disease.