Mass and lecture celebrate Black History Month
---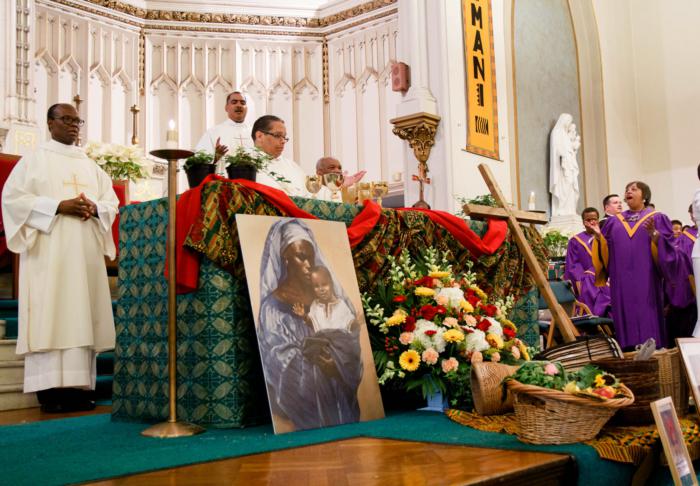 Father A. Gerard Jordan celebrates a Mass commemorating Black History Month at St. Katharine Drexel Parish in Dorchester Feb. 5. Pilot photo/Mark Labbe
DORCHESTER -- For Augustine Onochie, it wasn't just Father A. Gerard Jordan's homily or the music from the Archdiocese of Boston Black Catholic Choir that made the Feb. 5 Mass at St. Katharine Drexel Parish special. It was also the coming together of different communities.

"The mere fact that we're all brought together to celebrate this Mass, that is awesome," said Onochie, a member of the Nigerian Catholic Community and a parishioner at St. Katharine Drexel.

The Mass commemorating Black History Month was celebrated by Louisiana-born Father Jordan. A Norbertine priest and canon, Father Jordan is a special assistant to the postulator for the canonization of Father Augustus Tolton, the first Catholic priest in the United States publically known to be black when he was ordained.

The day before, Feb. 4, he had given a talk at St. Gregory Parish auditorium in Dorchester that focused on Father Tolton and four other black Catholics being considered for sainthood: Julia Greeley, Pierre Toussaint, Henriette Delille and Mother Mary Lange.

In his homily during the Mass, Father Jordan delivered a message about being true to one's heritage, nationality, and faith.

"We are called to be loyal servants, but the temptation is to pretend sometimes," he said.