Forming the Future: Coding kindergarteners at Holy Family School, Rockland
---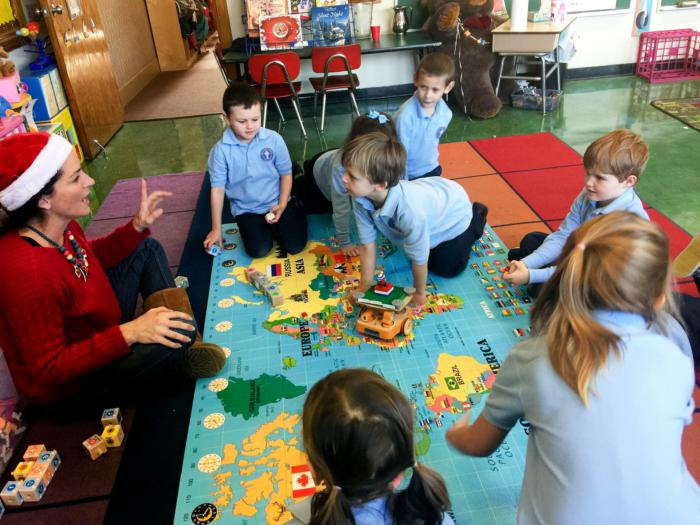 Holy Family School kindergarten teacher Susan Carr works with students to program the Kibo robot to make Santa's journey around the world last December. Pilot photo/courtesy Holy Family School
ROCKLAND -- Coding -- the ability to program a computer to perform certain functions -- is becoming an increasingly valuable skill in our world, and at Holy Family School in Rockland, even kindergarteners are being introduced to coding thanks to a little robot by the name of Kibo.

"Kibo is basically a little square vehicle that we can program to move," explained Kindergarten teacher Susan Carr. Beginning in September, the school embarked on the Kindergarten Robotics Initiative. Students were introduced to Kibo and have been taught how to write code to make it move.

"Every month, we have had a project that involves getting Kibo to do a particular task," explained Carr. Most of the time, the project centers around a science or social studies unit the kindergarteners are working on.

Carr cited the example of students' December project, in which Kibo was transformed into Santa's sleigh. Using a large floor map, the children had to program Santa's trip around the world.

"This is what fun and education are all about. While they are watching the trip around the world, the children were learning basic coding skills without even realizing it. They learned directionality, they learned geography, they learned code -- all while having a great time watching Santa's world trip," she said.