From Cardinal Seán's blog
---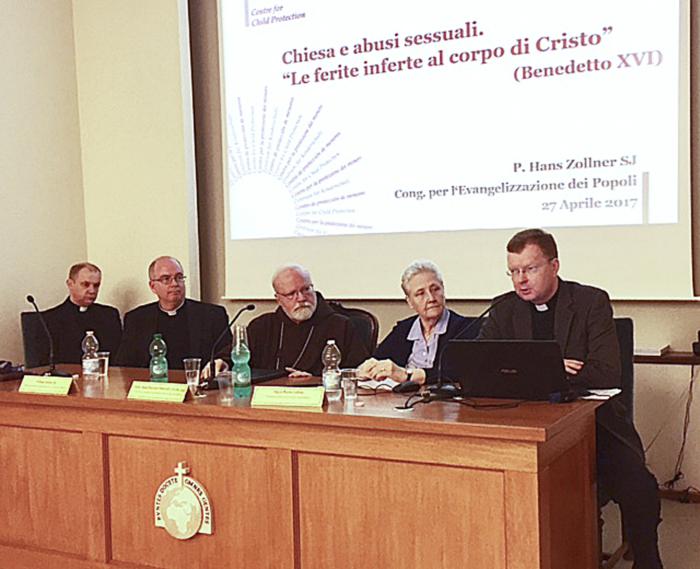 'In addition to myself, the panel included Father Hans Zollner SJ, Msgr. Robert Oliver and Marie Collins. Although we are very sorry to lose Marie Collins from the commission, we are so pleased that she was present and is willing to help us in the very important task of trying to bring formation on the issue of child protection to Church leadership...' Pilot photo/CardinalSeansBlog.org
Each year we have a gathering of the Fellowship of Catholic University Students, or FOCUS, lay missionaries working in the various universities in the Archdiocese of Boston. This year, it was held last Thursday evening (4/20) at St. Mary's Parish in Waltham, and hosted by Fathers Wayne Belchner and Eric Cadin, along with Father Dan Hennessey.

They updated me on some of their work and recent activities in their ministries at Boston University, MIT and Harvard, and then we shared a meal together.

FOCUS is a wonderful movement that has had an extremely positive impact on campus ministry, not only in our archdiocese, but around the country. We are extremely grateful to have them here, and we hope that their presence will continue to grow.

Time in Rome

On Sunday (4/23), I departed for Rome for our April meeting of the Council of Cardinals advising the Holy Father. We met Monday through Wednesday, and on Monday we joined the Holy Father for Mass at Casa Santa Marta. This time, during our meetings we reviewed the work of several offices of the Curia, particularly Propaganda Fide and the Pontifical Council for the Promotion of the New Evangelization.