Palliative Care Colloquium addresses spirituality in health care
---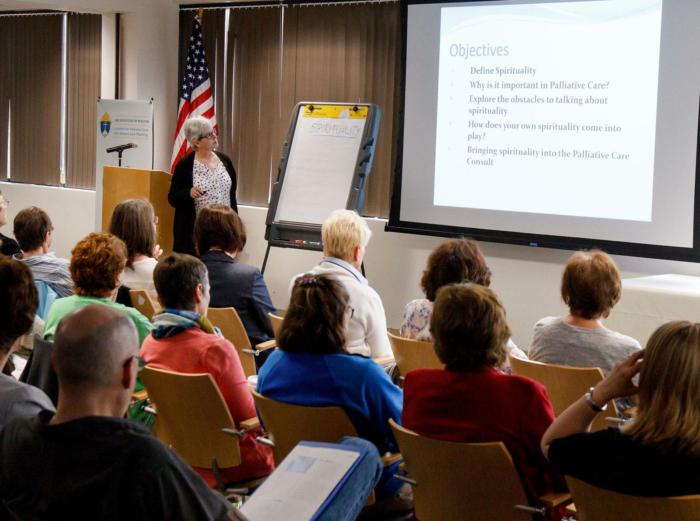 Dr. Karen O'Brien, clinical director of the Inpatient Palliative Care Team at Massachusetts General Hospital addresses the second annual Palliative Care Colloquium at the archdiocese's Pastoral Center April 30. Pilot photo/Mark Labbe
BRAINTREE -- Dozens of health care professionals, pastoral staff, and others interested in palliative care gathered April 30 at the Archdiocese of Boston's Braintree headquarters for the second annual Palliative Care Colloquium.

Sponsored by the archdiocese and led by MC Sullivan, head of the Archdiocese of Boston's Initiative on Palliative Care and Advanced Care Planning, the colloquium featured speakers well-known in their work in palliative care, a health care model that attempts not just to treat a patient's immediate symptoms, but instead treat the whole patient.

The Initiative on Palliative Care and Advanced Care Planning, founded in 2015, has the goal of educating and informing people, parishes, and organizations within the archdiocese and beyond on palliative care, which has been promoted by the archdiocese as a way to combat the growing movement advancing physician-assisted suicide as an answer to patient suffering.

Typically aimed at patients willillnesses, palliative care seeks to establish an interdisciplinary team to address many of a patient's needs, including spiritual, psychosocial, and physical. At a minimum, that team might be made up of physicians, nurses, social workers, and chaplains.