On Mary's maternal presence at Pentecost
---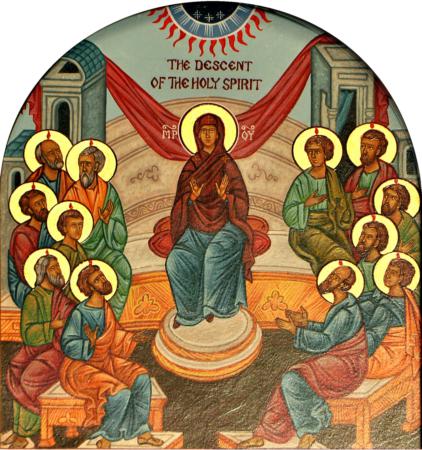 By bobosh_t [CC BY-SA 2.0], via Wikimedia Commons
ROME (Zenit.org) -- Pentecost marks a time when Mary's presence is of singular importance, says a specialist in Marian studies.

In this May 2004 interview with ZENIT, Discalced Carmelite Father Jesus Castellano Cervera, who was at the time a consultor for the Congregation for the Doctrine of the Faith, elaborated on the Blessed Virgin's presence at the arrival of the Holy Spirit. Father Castellano died in June 2006.

Q: The time we are now living is the conclusion of Eastertide and of the month of May. Is it of special Marian relevance?

A: I think the time extending from the Ascension to Pentecost is a particularly Marian time.

The fact emphasized in the Acts of the Apostles, which reminds us of Mary's presence in the Cenacle, must be stressed. Early iconography, Byzantine liturgy, and early information on Mary are unanimous in reminding us of the Virgin Mary's presence in the episode of the Lord's ascension to heaven.

Mary appears in prayer with the disciples while Jesus ascends to heaven. Thus, the Mother becomes the witness of the whole of Christ's human life, from the coming from the bosom of the Father, to her maternity, and from the ascension to the bosom of the Father, with the flesh taken from the Mother.

Q: What is the meaning of Mary's presence among the disciples in the Cenacle?

A: I believe that Jesus entrusted his disciples to Mary before the coming of the Holy Spirit.