Project brings artist to know Mary
By Neil W. McCabe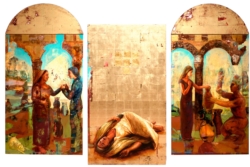 "Via Activa," or "The Path of Action and Obedience," by artist Bruce Herman. The panels depict, from left: Mary greeting her cousin Elizabeth, the overshadowing of the Lord and the Annunciation. Pilot photo/ Courtesy Bruce Herman
Posted: 11/21/2008
On the campus of Wenham's Gordon College Dec. 4, a faculty member will unveil two 12-foot wide triptychs of the Virgin Mary he painted that will ultimately hang in an Italian cloister.

But perhaps even more interesting than the journey the paintings will make is the spiritual journey the artist made while painting them.

Because he is not a Catholic, he was not raised to have a relationship with Mary. But, in the process of painting her and thinking about her life, he has developed a rapport with her, said Bruce Herman, an art professor and holder of the Lothlorien Distinguished Chair in Fine Arts at the non-denominational Christian college founded in 1889 to train Protestant missionaries.

The two pieces, "Miriam, Virgin Mother: 'Via Activa,'" and "The Second Adam: 'Via Comtemplatica," depict Mary at two critical moments in her life, and thus in human history, Herman.

Mary's effect on him is similar to the way his wife of 36 years changed him, he said. "She is the mother who confronts us with honesty, not too strong, not too weak."

In May, the triptychs will travel to their final destination, the chapel of the San Paolo Monastery in Orvieto, Italy, near Assisi. The monastery is home to the sisters of the Adorers of the Blood of Christ, who have partnered with Gordon's art department to create classroom and dormitories facilities on their compound for an ongoing year-long program for art majors in their junior year to study traditional art, including Catholic art traditions.

The first triptych "Via Activa," or "The Path of Action and Obedience," Herman said he depicts on the right panel, Mary at the Annunciation, confronted by the archangel Gabriel with the news that she is to carry the Christ-child.

"In all other instances in the Bible, when people are confronted by an archangel they fall prostrate and are terrified. They fall unconscious sometimes, they are so terrified, but she remains calm, but troubled," he said.

For Gabriel to address her with: "Hail, Highly Favored One," is astonishing, considering that she is a simple 14 or 15-year-old girl, he said. "But, her response is even more astonishing, because she says, 'Yes, let it be done unto me. Behold the handmaiden of the Lord,' she immediately agrees to embrace this role in cosmic history--let alone human history."

In this way, Mary is really the world's biggest risk-taker, he said. "She is never portrayed this way, but I see her as the ultimate artist. As artists, we blunder into things we hardly know. In the worst case scenarios: we jump off cliffs; we try what we are not supposed to try; we ask questions we are not supposed to ask. But she is obedient."

What makes Mary different is her obedience, he said. Mary is a bold woman willing to take an enormous chance, which at the same time puts her in perfect synch with God's will.

"I have always seen Mary as the exemplar, the model, of both action and contemplative prayer," he said. "We are told that she ponders all of these things and treasured them in her heart. She thinks about things. She weighs things so, already at 14 or 15, she is exemplifying this amazing capacity for contemplation."

The center panel, "The Overshadowing," is the artist's attempt to portray the moment Gabriel explained to Mary what will happen to her, after she asked how her pregnancy would come about since she did not know man, he said. The scene is bathed in 23k gold to represent the Holy Spirit.

Herman said from his research that he is sure that moment has not been depicted before, so he had no guides or models to follow, although afterwards he consulted other artists and a theologian, who agreed with his approach.

For the second triptych, Herman painted the wedding at Cana on the left panel, where he said Mary inaugurated her son's ministry, even though it had been prophesized to her by Simeon that this road would end in his suffering and that the sword would piece her own heart.

Originally, Herman created a scene where Mary was with Jesus and the steward who was distraught that there was no more wine, he said. In the background, there were hundreds of guests for a party that would last for days.


Page 1 of 2

If you found this article interesting please consider helping us continue to spread the Good News.