Conference examines problem of forced migration
By Neil W. McCabe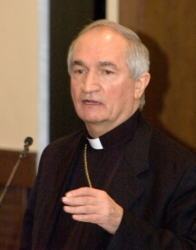 'Archbishop Silvio M. Tomasi, permanent observer to the United Nations High Commissioner for Refugees in Geneva.
Posted: 11/28/2008
The Holy Father's permanent observer to the United Nations High Commissioner for Refugees in Geneva delivered one of the keynote addresses Nov. 20 at the Boston College Center for Human Rights and International Justice conference on the causes of forced migration and the systemic responses.

The address by Archbishop Silvio M. Tomasi, CS, was one of 12 papers delivered at the conference, which continued through Nov. 23 and brought together academics and practitioners in the field of refugee relief, said Father David Hollebach, SJ, the center's director and a professor of theology at the Jesuit university.

The conference was co-sponsored by Catholic Relief Services and Jesuit Relief Services, and is a follow-up to the November 2006 conference held in Nairobi, Kenya, Father Hollebach said.

Father Hollebach said the Nairobi conference was very productive because it drew on Africans and persons working in Africa and their first-hand knowledge of the refugee situation on that continent, in particular in the Democratic Republic of the Congo.

This conference was organized to open up the discussion to more global issues, such as the 4.5 million people displaced by the American invasion and occupation of Iraq, he said. "This country has taken in only 14,000 refugees?there is something really wrong with that."

In addition to Iraq and Congo, there are millions of forced migrants all over the world, including Sudan and Columbia and people with no country, no state and no home, he said. "The question is 'How do we take systemic steps to save these people?'"

In his address, titled, "Human Rights as a Framework for Advocacy on Behalf of the Displaced: The Approach of the Catholic Church," Archbishop Tomasi said, "Everyone is moving from everywhere to everywhere."

In the world today, 200 million people are living in a country different from the one where they were born, he said. Of these, 26 to 30 million are forced from their homeland by adverse conditions beyond their control.

"Human mobility in all its facets is not a new phenomenon," he said. Nor has the Church ignored it.

The archbishop said the modern history of the Church's teachings on refugees began with the social justice expressed in Pope Leo XIII's 1891 encyclical "Rerum Novarum" with his words: "men would cling to the country in which they were born, for no one would exchange his country for a foreign land if his own afforded him the means of living a decent and happy life."

This teaching was expanded by Pope Pius XII who asserted the right to enter another country, he said. This right presents a comprehensive view of all categories related to human mobility and legislated a systematic and specific pastoral care for uprooted persons and families.

Almost all nations accept the right of an individual to leave, but the Church is almost alone in asserting the individual's right of entry, he said.

This right of entry is not an absolute, and does not trump the receiving nation's regular concerns for security; however to the degree it can safely do so, countries have an obligation to welcome refugees, he said.

Speaking after his address, the archbishop said he disagrees with critics of Pope Pius XII, who insist that the pontiff did not do enough to protect Jewish refugees during the Second World War.

"It has become a mythology," he said. In fact, the Vatican hid thousands of Jewish refugees and issued passports and took other measures to save their lives.

"Now that the Vatican archives are being opened, these people who are writing these stories have an obligation to examine the documents, witnesses and testimonies describing everything Pope Pius XII did to save the Jewish and other refugees during World War II," he said.

Pope John XXIII made the plight of refugees part of the global understanding of the common good, which was built upon by his successors, Pope Paul VI and Pope John Paul II, who both called for migration and development to be linked and recognized as the rights of the person and the nations.

Refugees searching for a more dignified life are not without rights and they have a just claim upon the hospitality and concern of the international community, he said.

The evening's other keynote address was delivered by Prof. Susan Martin, a professor of international migration at Georgetown University, who said the current migration regime is rooted in a Euro-centric model that flowed from reactions to the Holocaust and the Cold War.

In today's international law, a migrant is designated by the cause of his forced movements, she said. If persons flee a well-founded fear of persecution and cross an international boundary, they are "refugees."

The United Nations may also grant the designation for persons fleeing conflict, but there is no recognition by the U.N. for persons displaced by natural disasters, development projects, such as dams, environmental degradation or climate change, she said.

Martin said there are now 50 million refugees around the world, many in an almost permanent state, such that the average refugee or displaced person lives nearly 17 years without a permanent home.


Page 1 of 2

If you found this article interesting please consider helping us continue to spread the Good News.