Obituary: Father Paul Rouse, pastor, liturgist, and musician
---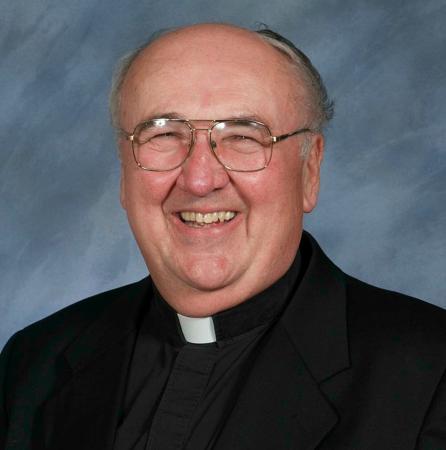 Father Paul Rouse Pilot file photo
Help us expand our reach! Please share this article
A Boston priest and proud son of Southie, Father Paul Rouse died rather unexpectedly on Aug. 4, the day the Church recalls St. John Vianney, the patron saint of parish priests.

Charles Paul Rouse, as he was baptized at Gate of Heaven Church, was born in Dorchester on Sept. 13, 1940; he was the older of the two sons of the late Charles and Anna (Clougherty) Rouse. His younger brother, Richard of Jamaica Plain survives him.

Raised in the tightly knit Gate of Heaven Parish in South Boston, he attended both the elementary and high school of the parish; he was educated by the Sisters of St. Joseph of Boston, with whom he maintained a lifelong admiration and relationship.

From an early age, his outstanding musical ability was recognized. He could play the piano by ear but Sister Rosalinda, CSJ, insisted that was not enough and made him learn to read music -- something that would prove invaluable in later years. Mary Sances of South Boston, a contemporary at Gate of Heaven School said: "He was so good that he was directing choirs and school productions and he even composed our school song, 'Silver and Blue.'" This observation was echoed by Hartford's Archbishop Emeritus Daniel Cronin, who, when he was auxiliary bishop of the archdiocese (1968-1970), had been pastor at St. Raphael Parish in Medford, where Father Rouse was assigned (1970-1974). "He was a great musician; he could play anything by ear or with sheet music."

Father Rouse was formed at St. John Seminary, first at the then-minor seminary, Cardinal O'Connell in Jamaica Plain, and then at its Brighton campus. Fellow South Boston native, Richard Cardinal Cushing ordained him to the priesthood at Holy Cross Cathedral on June 7, 1967.

His first assignment was as an assistant at St. Athanasius, Reading, followed by an assignment as an assistant at St. Patrick, Lawrence. There, he had an immediate impact and befriended the Sisters of Charity of Halifax, with whom he developed additional friendships. Later in retirement, he would celebrate Mass for these Sisters at Marillac Residence, Mount St. Vincent, Wellesley.

Humberto Cardinal Medeiros named him an associate at St. Polycarp, Somerville, in 1974. During the summers until 1978, he undertook graduate studies in Liturgy at the University of Notre Dame, South Bend, Ind. He really never left ND. In one of the parishes where he was pastor, the rectory doorbell rang the Notre Dame fight song. He was named an associate at St. Francis Xavier, Weymouth, in 1979, and in 1980, a whole new phase of priestly life came his way when he was granted lend-lease status and served as director of the Office of Worship in the Diocese of Saginaw, Michigan. Not only did this give him a different experience of the Church but it also put him in driving distance from South Bend.

He returned to the archdiocese in 1985 and was named to the faculty of his first alma mater, St. John Seminary, where he would teach liturgy for the next four years. In addition, he became director of music at the seminary, reviving his South Boston talents as choir director. Concurrently, he was also the director of the Office for Worship of the archdiocese (1986-1989). Seminary alumni and those who experienced his presentations at archdiocesan workshops still recall his enthusiasm for the sacred liturgy and his energetic presence.

He enjoyed a sabbatical before he returned to parish ministry in 1989, serving as pastor of four parishes in the ensuing years: St. Camillus, Arlington (1989-1995); Holy Name, West Roxbury (1996-2000); St. Michael, Avon (2000-2003); and St. Peter. Gloucester (2003-2005). After Gloucester, he assisted the archdiocese as a member of the Emergency Response Team until he was granted senior priest/retirement status in 2006.

In his retirement, he was still available to assist in parishes and, as mentioned, at convents of his "favorite" Sisters -- St. Joseph of Boston; Notre Dame de Namur; and Charity of Halifax. As fellow South Bostonian, Msgr. Kevin O'Leary, said "they all loved him."

Father Rouse died on Aug 4 in Boston with his family at his side.

His Funeral Mass was celebrated at Gate of Heaven, South Boston, on Aug. 10. Cardinal Seán P. O'Malley was the principal celebrant and auxiliary Bishops Robert Hennessey and Robert Reed, as well as auxiliary bishops emeriti John Dooher and Arthur Kennedy joined as concelebrants as did some 50 priests including: Msgrs. Liam Bergin of St. Brigid, South Boston, and Boston College faculty; and Kevin O'Leary, rector of Holy Cross Cathedral; George Carlson, senior priest, Hull; and William Helmick, Regina Cleri, Boston; among the senior priests were Fathers Michael Bova Conti, John Nichols, Henry Nichols, Brian Flatley, Richard DeVeer; in addition to the senior priests were Fathers David Brogan, St. John the Evangelist and St. Paul, both in Wellesley; Father John Connolly, St. Theresa of Avila and St. John Chrysostom, both in West Roxbury; Father Joseph Hubbard, St. Michael, North Andover. Father Robert Kickham, Secretary of His Eminence, the Cardinal, served as master of ceremony; Gate of Heaven's pastor, Father Robert Casey, proclaimed the gospel and Father Daniel McLellan, OFM, a fellow student priest at Notre Dame with Father Rouse served as the homilist.

Following the Funeral Mass Father Rouse was buried with his parents in Cedar Grove Cemetery, Dorchester.