Statue's Boston area visit marks Fatima centennial
---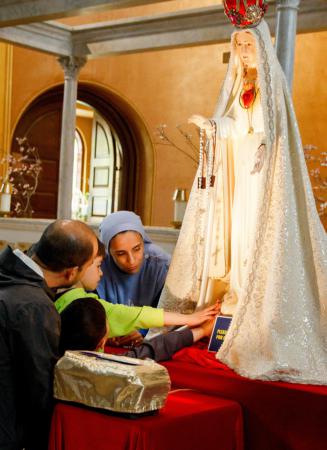 Mother Olga Yaqob leads children in venerating the Immaculate Heart of Our Lady of Fatima Statue May 13 at St. Mary Parish in Waltham. Pilot Photo/Mark Labbe
WALTHAM -- It was 100 years ago that Our Lady of Fatima first appeared to three young shepherd children in Portugal and spoke to them messages of love and of hope. Yet, today, even 100 years later, said Bishop Robert Reed, that message still lives on.

Giving the homily during a morning Mass at St. Mary Parish in Waltham, May 13, Bishop Reed addressed the large number of faithful in pews, who had gathered at the church to venerate the visiting Immaculate Heart of Our Lady of Fatima Statue.

The statue, under the custody of the World Apostolate of Fatima, USA, depicts an image of Our Lady as she appeared to Sister Lucia Santos, one of the three children to first see Our Lady in 1917, as she appeared to her again in 1929. It was blessed by Pope Francis in 2013, and is one of three statues that now regularly travel across the United States, spreading the messages of hope, love and peace of Our Lady.

The statue is in the Archdiocese of Boston from May 1 to May 22, visiting a total of 22 parishes and two prisons. The showing of the statue at St. Mary, however, was the most prominent showing; taking place exactly 100 years after Our Lady first appeared to the children on May 13, 1917.

In his homily, Bishop Reed spoke of that appearance and of the message Our Lady brought.