Cardinal celebrates Life Teen Mass for Appeal announcement weekend
---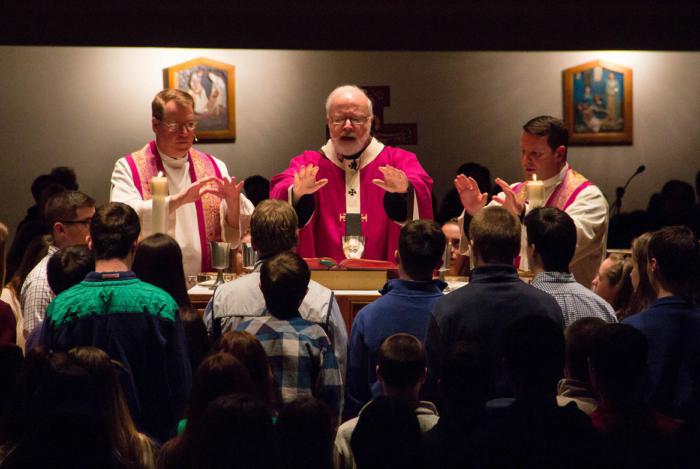 Life Teen members surround Cardinal Seán P. O'Malley as he celebrates Mass on Appeal announcement weekend at St. Mary of the Sacred Heart Church in Hanover, March 1. Concelebrating with Cardinal O'Malley are pastor Father Chris Hickey and Father Jonathan Gaspar. Pilot photo/Christopher S. Pineo
HANOVER -- Roughly 800 teens, their families and fellow parishioners packed St. Mary of the Sacred Heart Church in Hanover, March 1, for a Life Teen Mass celebrated by Cardinal Seán P. O'Malley to mark the Archdiocese of Boston's 2015 Catholic Appeal announcement weekend.

The announcement weekend introduced the appeal in parishes throughout the archdiocese before the launch next week. During the announcement weekend other parishes heard audio or saw a video on the Appeal during Mass.

Through the Appeal each year, Catholics help support 50 ministries in the archdiocese. The ministries sustained by the Appeal serve 289 parishes, 122 Catholic elementary and secondary schools, and thousands of Catholics of all ages in many life circumstances.

The Appeal launches in all 289 parishes throughout the archdiocese March 7 and 8. Cardinal O'Malley will celebrate the 4 p.m. Mass on March 7 at St. Anthony of Padua Parish in Shirley and the 12 p.m. Mass on March 8 at St. Patrick Parish in Stoneham. In other parishes, the celebrant, an Appeal coordinator, or another volunteer will explain the impact of the Appeal in the parish and introduce the in-pew campaign at each Mass.

According to the archdiocese, it is experiencing a "period of unprecedented success," after the 2014 Catholic Appeal raised $15.3M in pledges. Nearly 50,000 families supported the Appeal that year -- an increase of 22 percent from the year before.