Cardinal seals cathedral Holy Door of Mercy
---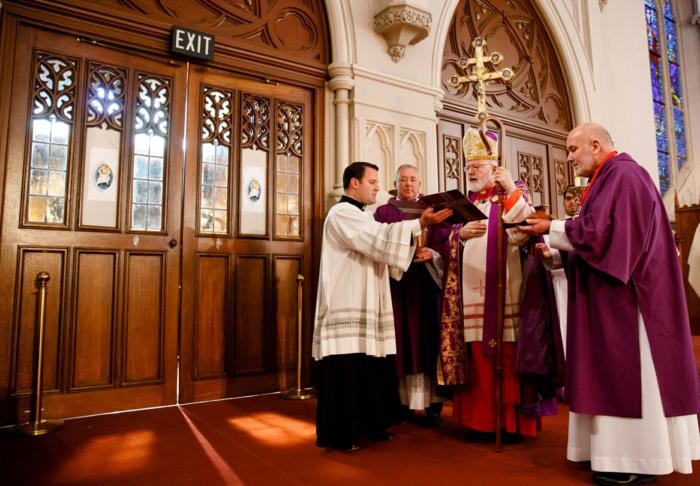 Cardinal O'Malley blesses the Holy Door of Mercy to be opened Dec. 13 for the Year of Mercy declared by Pope Francis. Pilot photo/Gregory L. Tracy
SOUTH END -- Following the conclusion of the Cheverus Awards Vespers service, Nov. 29, Cardinal Seán P. O'Malley sealed a holy door in the Cathedral of the Holy Cross in preparation of the Extraordinary Jubilee Year of Mercy.

"Today, we gather here to bless and seal the holy door that has been designated for the upcoming Jubilee Year of Mercy called for by our Holy Father Pope Francis. We will open it on Dec. 13 along with all the cathedrals in the world," said the cardinal.

When the door is opened on Dec. 13 during an 11:30 a.m. Mass, it will be opened as a Holy Door of Mercy, and will remain open during the Jubilee Year.

Holy doors have been used since the 15th century as a ritual expression of conversion during jubilee years. Pilgrims and penitents pass through it as a way of shedding the past and moving from sin to grace.

After Cardinal O'Malley blessed the door, a cross was hung on it, and a golden cord was placed across it to seal it.

"Let it be a reminder to all of us who pass through it that Jesus is the only way to salvation. Let it serve as a symbol of God's everlasting mercy and his constant invitation to us to return home to him," said Cardinal O'Malley.

"May the doors of our heart by wide open to his call, and may the doors of all our homes and our parishes be open to all who seek the living God," he continued.