Bishop Uglietto opens cathedral Jubilee Holy Door
---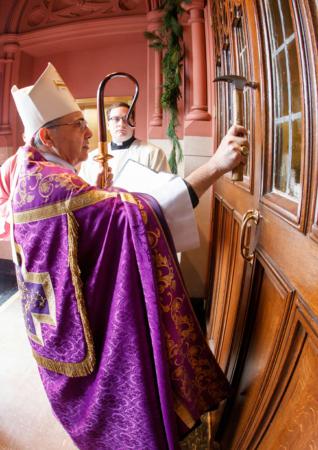 Vicar General of the Archdiocese of Boston Bishop Peter J. Uglietto knocks on the Jubilee Holy Door of the Cathedral of the Holy Cross before a Mass Dec. 13 to celebrate the opening of the holy door for the Year of Mercy. Pilot photo/Gregory L. Tracy
SOUTH END -- The Holy Door of Mercy was opened in the Cathedral of the Holy Cross, Dec. 13, in a Mass officiated by vicar general Bishop Peter J. Uglietto.

The Mass began in the cathedral's Blessed Sacrament Chapel, where Bishop Uglietto and other clergy members gathered before proceeding to the holy door.

Standing on the outside of the door, the bishop said a prayer and knocked on the door three times with a special hammer, a gesture harkening back to the times when the holy doors of the basilicas of Rome were bricked over between jubilee years and would be broken by the pope with a hammer that would often be made of gold or silver.

Bishop Ugiletto then opened the door and, carrying the Book of Gospels, led the procession of priests, deacons, seminarians and members of groups such as the Order of Malta and the Equestrian Order of the Holy Selpuchre into the cathedral to begin the Mass.

The holy door had been shut since Nov. 29, when Cardinal Seán P. O'Malley sealed it in preparation of the Extraordinary Jubilee Year of Mercy, decreed by Pope Francis.

Pope Francis opened the jubilee holy door of St. Peter's Basilica in Rome on Dec. 8, the Solemnity of the Immaculate Conception. The pope had asked cathedrals around the world to designate special holy doors which were opened on Dec. 13 as Holy Doors of Mercy.