On last Mercy Friday, Francis meets men who left the priesthood
---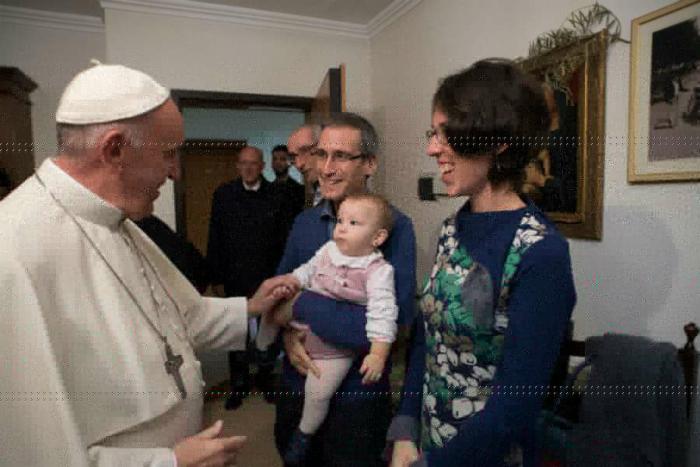 Pope Francis meets with former priests Nov 11 2016. Photo credit: LOR
Rome, Italy, Nov 11, 2016 CNA/EWTN News.- For his last "Mercy Friday" during the Jubilee of Mercy, Pope Francis spent the afternoon visiting seven young men who have left the priesthood, as a sign of closeness and affection after the difficult decision they made.

Francis left his residence at 3:30 p.m. and traveled to the Ponte di Nona neighborhood on the eastern outskirts of Rome, where he met with seven families formed by young men who have left the priesthood in recent years.

According to a Nov. 11 communique from the Vatican, the Pope wanted "to offer a sign of closeness and affection to these young men who have made a choice not often shared by their brother priests and families."

After several years dedicated to carrying out priestly ministry in the parish, eventually "loneliness, misunderstanding and fatigue due to the great effort of pastoral responsibility put their initial choice of the priesthood in crisis."

Thrown into feelings of uncertainty and doubt that led them to question whether they made the wrong choice with their decision to enter the priesthood, the young men eventually chose to leave and start a family.

Of the seven young men present, four were from the Diocese of Rome; the others were from Sicily, Madrid, and Latin America.