'Walking with Mary' gathers ethnic communities for Year of Mercy
---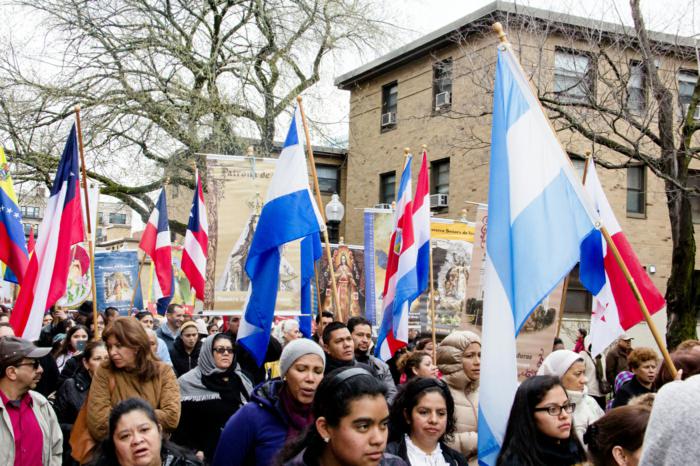 Members of over 40 ethnic communities of the Archdiocese of Boston took part in Walking for Mary, Year of Mercy pilgrimage to the Cathedral of the Holy Cross April 2. Pilot photo/Mark Labbe
SOUTH END -- A procession of an estimated 2,500 members of various ethnic communities in the Archdiocese of Boston, led Cardinal Seán P. O'Malley, exited the front doors of the Cathedral of the Holy Cross in Boston April 2 singing.

With police blocking off several nearby streets, the group walked a block around the cathedral, entering it again through the Holy Door of Mercy in a slow, halting procession. From beginning to end, the singing never appeared to stop.

The procession was part of the afternoon-long event Walking with Mary, planned by the Archdiocese of Boston's Office of Outreach and Cultural Diversity in an effort to bring the different ethnic communities in the archdiocese together to celebrate the Year of Mercy.

The event gathered parishioners representing about 40 different nations, many carrying banners, flags, and statues and images of their particular devotions to Mary, during the procession.

The event began in the early afternoon with a multilingual Chaplet of the Divine Mercy, followed by the procession.

Upon reentering the cathedral, each person was handed a white handkerchief, which they waved in the air as the procession, led by the Divine Mercy image and Cardinal O'Malley, moved through the center aisle towards the altar.

About 200 children processed after the cardinal, carrying flowers that they placed into baskets at the front of the cathedral.