St. Michael Parish shares Living Rosary tradition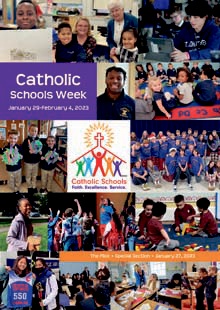 For the first time since the COVID-19 pandemic began, families, friends, and parishioners of St. Michael's Parish in North Andover were able to join St. Michael School students for their annual Living Rosary, held Oct. 25,, 2022, in dedication to the Blessed Mother and praying the rosary.

Organized by the fifth-grade class, this beautiful prayer service took some preparation and practice, but well worth it! We have found it to be a power and prayerful activity. Each fifth-grade student represented a bead along the rosary and led the congregation along in prayer and song. It was beautiful to see the "Rosary of Students" take form! The Living Rosary supports a devotion to Mary and the Mysteries help us learn more about Jesus.

Making sure our littlest students understand the meaning of the rosary is important to this tradition. To help, Father Joseph Hubbard took the children to the church to learn more prior to the group service.

One student in second grade shared that he loves Mary so much that he created paper flowers to share with his classmates. After he passed them out, the class prayed a decade of the rosary together. How precious! In fact, all the classes have an area of their classroom dedicated to their faith. This space gives the children a place to pray and a visual reminder of the importance of our Catholic faith. At St. Michael School, celebrating our Catholic values is a daily occurrence.

The teachers and staff of St. Michael School are committed to each child's education and work closely with school families and the parish to create a unified academic and social experience. St. Michael School offers a well-rounded faith-filled curriculum to children in nursery through grade eight that supports the education of the whole child, provides a safe and secure learning environment, and prepares our students to be lifelong learners and caring, respectful, moral young men and women who are prepared to excel inside and outside the classroom.

St. Michael School curriculum includes Language Arts, Mathematics, Social Studies, Science, Religion, Music, Physical Education, Art, Library, and Spanish. All students have an integrated STEM curriculum organized by a nationally certified STEM director. Students participate in a wide variety of extracurricular programs, including artistic, athletic, technology, and academic activities. St. Michael School also offers a flexible and affordable Extended Day program for families that need additional care from 7:00 a.m. to 5:30 p.m. St. Michael School is fully accredited by the New England Association of Schools and Colleges and all our classroom teachers are certified with Massachusetts Department of Education.

Any family considering St. Michael School for this fall is encouraged to visit our website at www.St.Michael.com and call the main office at 978-686-1862 to arrange a tour of the school and discuss the application process.

For St. Michael School students, being able to pray the rosary together with their community again is truly a blessing and a beautiful way to honor Mother Mary. Perhaps you can join us next year!



JESSICA BONACHEA (JESSICABONACHEA@GMAIL.COM OR 978-686-1862) IS A GRAPHIC DESIGNER AND ST. MICHAEL SCHOOL ALUM CLASS OF 1999. ST. MICHAEL SCHOOL IS A THRIVING SCHOOL COMMUNITY IN NORTH ANDOVER, PROVIDING AN EXCEPTIONAL CATHOLIC EDUCATION TO OVER 500 STUDENTS FROM DIVERSE BACKGROUNDS IN NURSERY THROUGH GRADE EIGHT SINCE 1950.