Faith, excellence, and service at Trinity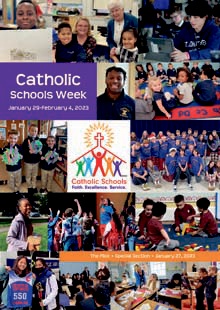 Faith. Excellence. Service. These are the core values for both Catholic Schools Week 2023 as well as the core values of our everyday life at Trinity Catholic Academy in Brockton. Our "faith" and "excellence" stem from the "service" we perform on a daily basis for the Brockton community and the surrounding towns, but most importantly for our church community. Under the guidance of the head of school, Dr. Jen Roy, the students, faculty, and staff at TCA lovingly and willingly want to help. Community service is not "required" at Trinity, but we teach the students that service is something that we should want to do out of the kindness of our hearts. Most importantly, students are taught that service is not something that happens once or twice; we need to make a lifelong commitment to helping others.

Along with food drives and fundraisers, the students have ample opportunity to provide aid and assistance to the tri-parishes of Brockton through a partnership with Christ the King Parish. The eighth-grade students help clean the church as well as assist with yard work and shoveling. On the second Wednesday of every month, our seventh- and eighth-grade volunteers assist Donna Widener and other volunteers from the Society of St. Vincent de Paul to unload thousands of pounds of food donated from the Boston Food Bank. Through this service, the students are not only learning to work as a team, but they are also developing crucial life skills: leadership, communication, problem solving, pride, and empathy. According to Ms. Donna, "The students at Trinity are an incredible help to me as well as Christ the King. It is evident that the students take pride in all they do for us and the community, and their service is greatly appreciated."

Trinity Catholic Academy also emphasizes to its students the importance of lifelong service; kindness doesn't end after graduation! Graduates of TCA willingly volunteer to return to serve our school and church family by aiding in athletics, tutoring, volunteering in the classrooms, unloading the food truck, and representing TCA at events, to name a few. It is through community service that students gain a deeper understanding in issues of social justice.

Isabella John, a freshman at Fontbonne Academy as well as the former Student Council president and valedictorian at Trinity, is very passionate about her commitment to serving others. Izzy believes that we are all innately "good" and we are all capable of doing "good" things for each other and society. It doesn't matter how many students are in your school, city, or organization. It doesn't matter how small or large the charity is you are helping. Any bit of service that helps or aids any of God's children or God's creation is greatly valued. According to Izzy, "Service is appreciated in all amounts; the smallest helping hand makes the biggest impact."

Another former Trinity student and Boston College High School sophomore Kayden Araujo believes that TCA was instrumental in teaching him the value of "giving back to the community and giving back to others that are less fortunate.'' Kayden can often be seen helping students and teachers at TCA whenever he has any free time. "It feels great to help others; it really helps you develop a better understanding of other students' circumstances." St. Sebastian freshman student athlete and Trinity grad, AJ Dybantsa, believes that if he can be a "role model to just one student," he has "done a great thing."

In the Gospel of Mark 10:45, we learn that "For even the Son of Man came not to be served but to serve, and to give his life as a ransom for many." The TCA family, past and present, exemplifies the true meaning of service. Whether our students are returning to Trinity to help younger students, continuing to aid in our local churches, or assisting those community members with food insecurities, the TCA family all shares the same commitment using our faith to help guide our excellence through service.



ANDREA HURM, M.ED., IS MIDDLE SCHOOL RELIGION TEACHER AT TRINITY CATHOLIC ACADEMY, BROCKTON, 508-583-6225, AHURM@TCABROCKTON.COM.