Catholic, exceptional, joyful, and rooted in Jesus Christ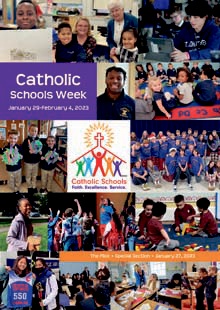 Picture this: a school where the day begins with Mass, followed by Eucharistic Adoration and the opportunity to receive the Sacrament of Reconciliation. In class, sixth-grade classicists recite Latin declensions, seventh-grade life scientists peer through microscopes at strawberry DNA, eighth-grade historians debate the arguments for and against 14th-century conciliarism, and ninth-grade theologians discuss the role of Mary in salvation. For lunch: a parent-hosted "Epiphany Pizza Party," followed by galette des rois (king cake) and the whole school singing "We Three Kings" accompanied by the assistant principal on guitar. Scholars use their recess break to read Josef Pieper's "The Four Cardinal Virtues or Chaucer's Canterbury Tales" -- or head outside to play soccer. The day ends with Evening Prayer, consecrating our day's work to God.

All of these things happened today, and this is not an anomaly. This is who we are at Lumen Verum Academy, where we unabashedly live out our Catholic faith, rigorously cultivate our scholars' intellect, and joyfully celebrate in a community of families united in faith and vision.

At Lumen Verum Academy, our curriculum and our way of life express our deep Catholic faith. Our faculty are witnesses to a life of faith, taking an Oath of Fidelity to the Magisterium. Our days are sanctified through our worship at Mass and our participation in the Liturgy of the Hours. Our school calendar honors the liturgical year celebrating the saints and seasons of the Church. Our academic curriculum is permeated with a Catholic worldview, in which all disciplines from math to theology are seen as manifestations of the unity of Truth in Jesus Christ. And throughout our work and worship, we cultivate in our scholars the habits of virtue that guide them on their paths to sanctity.

As a Catholic school, we believe that the cultivation of the intellect is our responsibility as a preparation for service of God and others. Developing our minds is a way in which we manifest our divine image and share the gifts that have been entrusted to us. We nurture our scholars' intellectual abilities, empowering them to approach the world with wonder and to think clearly in the pursuit of wisdom. We achieve this by exposing our scholars to the great tradition of thinkers who have grappled with the most profound questions human beings have faced in science, mathematics, theology, history, and literature. Then, we teach our scholars to share what they have learned with others through our focus on effective writing and speaking.

When we fulfill our vocations by rooting our lives in faith, wisdom, and virtue, joy is the natural result. The joy of our community is palpable. This does not mean that the work is not challenging. What it means is that we face those challenges together. Our parents and our faculty share a common vision and mission for our scholars -- and we share in the joy that comes from "being of the same mind, with the same love, and united in heart" (Philippians 2:2).

In a world marked by confusion, where it is increasingly challenging to live a life of faith and virtue, these three hallmarks -- our unabashed Catholic faith, our rigorous academics, and our joyful community -- are the necessary antidote. At Lumen Verum Academy, we strive to provide "good soil" where the seeds of faith, wisdom, and virtue can grow and be nourished in our scholars' minds, hearts, and souls.

There is so much more that could be said about the uniqueness of our school, such as our:

-- Blended-learning model, where scholars spend two days learning from home and two days learning in person;

-- Biweekly Friday Field Trips, where we explore local monasteries, farms, museums, and more;

-- Elective Programs and Distinguished Guest Lecturer series, in which scholars take courses taught by professors and professionals;

-- Faith Formation Program, which organizes mentoring and retreats;

-- Academic Programs, which coordinates our participation in local and national academic competitions;

-- Co-Curricular Programs, which include our Cross-Country Team and clubs such as our LVA4Life, Volleyball, Engineering, Card Games, Media, and more;

-- School-wide Drama Program, which this year will produce "Macbeth";

-- Parent Guild, which organizes family events, such as hikes and trips to local shrines;

And so much more!

But all that we do flows from our commitment to our faith, to academic rigor, and to building an environment where to be Catholic is to be filled with Christ's joy. There is truly no other school like Lumen Verum Academy.



KAREN CELANO (KAREN_CELANO@LUMENVERUMACADEMY.ORG) IS PRINCIPAL OF LUMEN VERUM ACADEMY, A CO-EDUCATIONAL BLENDED-LEARNING SCHOOL BASED IN SUDBURY, MA, CURRENTLY SERVING GRADES SIX TO NINE AND ADMITTING GRADES SIX TO 10 FOR THE 2023-2024 SCHOOL YEAR. FOR MORE INFORMATION, VISIT WWW.LUMENVERUMACADEMY.ORG OR EMAIL ADMISSIONS@LUMENVERUMACADEMY.ORG.