Mission Grammar Scholars at Prince William's Earthshot Prize Initiative!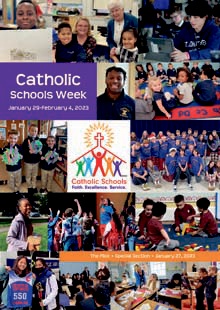 At Our Lady of Perpetual Help Mission Grammar School, scholars are immersed in a transformative student experience on the 133-year-old campus. In support of their scholars' growth, teachers are encouraged to take advantage of the countless opportunities in the city of Boston as an extension of their classroom. For Ms. Sanzari's sixth-grade homeroom class, they were ecstatic to participate in their favorite field trip to date in their final year at the historic school in Mission Hill.

In 1962, President John F. Kennedy delivered his iconic "Moonshot" speech with the ultimate mission to land on the moon within a decade. With this same idea in mind, in 2020 Prince William launched the Earthshot Prize established to highlight environmental change makers across the globe in an effort to sustain Mother Earth.

This support for environmental justice is profoundly aligned with Pope Francis's encyclical on ecology, "Laudato Si'," which exclaims that climate change is real and the human race must do our part to alleviate environmental issues and support sustainability. As an urban, Catholic school committed to a faith that does justice, the leadership of Mission Grammar has been committed to ensuring Pope Francis's vision around care for the environment is realized at our school. For the scholars at Mission Grammar ranging in age from three months through sixth grade, this theme of environmental justice is weaved throughout their academic curriculum. And for the sixth grade, they saw our commitment to this in action as invited guests to the Environmental Town Hall as part of Prince William's Earthshot Prize Initiative.

The town hall brought together local, national, and international leaders committed to building a more environmentally friendly world for future generations with over 450 student change makers and was held at John F. Kennedy Presidential Library. The event was opened with remarks by United States Ambassador to Australia Caroline Kennedy Schlossberg, which was fitting to continue her father's legacy, 60 years after the Moonshot speech. Ambassador Kennedy shared with scholars that "It's up to you . . . And for 60 more years into the future, so that you can look back and say, 'We're the generation that saved the life of our planet.'"

After the opening remarks, the conversation was turned over to the middle and high school students in attendance to discuss environmental issues that are most important for youth, who will become the leaders of tomorrow. There was an incredible presentation by students at Boston Green Academy about heat and asthma in urban areas. "I loved seeing presentations from older kids and learning about what they're working on. It opened my eyes to where I could have an impact," said Mission Grammar scholar Jasryah, grade six. The event continued with scholars being able to participate in a question-and-answer session with their peers in attendance.

Teachers and scholars alike were deeply impacted by the experience to participate in such an opportunity. "It was really awesome to see other scholars in Boston -- who are not too far away from our scholars' age -- and what they're doing to better understand climate change and its impact on our City," said Ms. Sanzari, who serves as the Upper School STEM teacher at Mission Grammar. It was clear all of the school leaders, administrators, and teachers were tremendously inspired by the scholars' passion to build a better Earth for tomorrow.

Sixth-grade scholar Alissa was thrilled to learn more about how climate change impacts her community, which is not always explained in her science textbook. "My favorite part of the town hall was learning about the red lining because it explained how people of color are really being impacted by climate change." Upon return to Mission Grammar, this outstanding opportunity only enriched classroom discussions regarding environmental justice and provided opportunities for scholars to reflect on how they can be leaders in the fight against climate change.

Mission Grammar continues to live the motto of "unity in diversity, excellence in education" through transformative experiences like the Environmental Town Hall. Scholars are proud to build upon their new knowledge in the classroom, through being exposed to transformative experiences on an international stage, and apply new understandings to their own life, learning, and growth.



ALIECE DUTSON IS PRESIDENT OF OUR LADY OF PERPETUAL HELP, MISSION GRAMMAR SCHOOL IN ROXBURY, MASSACHUSETTS, WHERE SHE HAS SERVED ON STAFF FOR THE LAST 18 YEARS. MISSION GRAMMAR SCHOOL IS AN URBAN, COLLEGE PREP CATHOLIC SCHOOL DEDICATED TO REACHING INDIVIDUAL EXCELLENCE IN A FAITH-BASED COMMUNITY ROOTED IN GOSPEL VALUES. MISSION GRAMMAR SERVES OVER 300 SCHOLARS AGES INFANT TO GRADE SIX HAILING FROM OVER 75 ZIP CODES WITHIN THE GREATER BOSTON COMMUNITY.