Central Catholic Lawrence exploring the Great Outdoors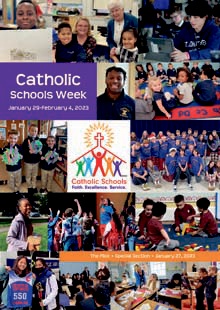 A variety of new and existing outdoor-based clubs and activities have been bringing members of the Central Catholic High School (CCHS) community outside of the city and into the Great Outdoors!

During the winter season, you can find the CCHS Ski and Snowboard Club and Varsity Alpine Ski Team (downhill skiing) carving up the snowy slopes.

Moderated by Mrs. Jodi Linnehan Kriner, director of Innovation and Academic Technologies for Central Catholic, the Ski and Snowboard Club is a non-competitive activity designed to introduce inexperienced skiers and snowboarders to the sport and to provide more experienced skiers/snowboarders the opportunity to improve their skills.

The Ski and Snowboard Club regularly skis in the Northeast at Waterville Valley and Loon Mountain Ski Resorts, but they have also traveled to ski the Rocky Mountains in Breckenridge, Colorado, over past February vacations.

"We are so happy to offer our students the opportunity to ski and snowboard as a group," said Mrs. Kriner. "Parents were also invited to participate, and it was great seeing CCHS families skiing together."

The first-ever Varsity Alpine Ski Team (downhill skiing) is a newer addition to Central Catholic's athletic options. With over 20 students participating, the team races out of the Mass Bay Ski League at Nashoba Valley Ski Area in Westford, MA, and they participate in both Slalom and Giant Slalom.

The team is coached by seasoned skier Adam Westaway and his two sons are also on the team, William Westaway '24 and Ethan Westaway '25. "I have been skiing since I was 14 months old and I spent my youth skiing and racing up at Sugarloaf (Maine)," said Coach Westaway, who started coaching skiing after college.

CCHS student Lauren Deskin '24 started skiing when she was five years old -- so the Alpine Ski Team was a perfect fit! "I love to ski and I have been racing for multiple years now. It's important for CCHS to have a ski team because it is different than the other sports we already have. It's also a good way for students to try it out and see if skiing is what they'd like to do."

Throughout the year, CCHS students can also participate in The Outdoor Adventure Club (est. 2015) -- a group started by teachers Mr. Eric Alaimo '02 and Mr. Mark Svendsen to encourage students to enjoy more outdoor activities and form strong peer relationships.

The Outdoor Adventure Club (OAC) promotes healthy lifestyle choices through outdoor activities and aims to create an inclusive environment for students where they can challenge themselves through participation in outdoor experiences and develop a strong character.

Club participants can partake in a variety of fun activities, including hiking and canoeing across the White Mountains and regional rivers.

"There is a lot of bonding, self-discovery, and on-the-go learning that happens on these trips that you can't quite teach in the classroom," said Mr. Alaimo. "My favorite part of the club is when we complete a hike or reach a summit and seeing the sense of wonder, awe, and satisfaction on a student's face when they see the fruits of their effort, especially for those who are new to the activity. It is also a pleasure to see many of the same students return for trips and then help younger students."

The Ski and Snowboard Club, Varsity Alpine Ski Team, and The Outdoor Adventure Club are just a few of over 60 activities and clubs offered to CCHS students to find the best fit for their personality, talents, and interests.



MRS. HEATHER TORLA SOUSA IS THE ANNUAL GIVING AND COMMUNICATIONS MANAGER FOR CENTRAL CATHOLIC HIGH SCHOOL IN LAWRENCE, MA. CCHS ENROLLS OVER 1,200 STUDENTS FROM 60+ CITIES AND TOWNS AND SEVERAL COUNTRIES. VISIT WWW.CENTRALCATHOLIC.NET.