Quincy Catholic Academy -- discover the joy!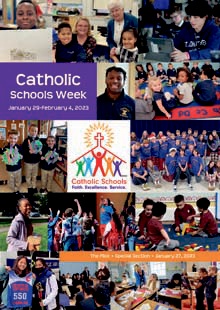 Quincy Catholic Academy, established in 2010, continues to thrive and grow in its mission to educate its students in "faith and values formation, academic excellence, and service to others." QCA began as a merger of three Catholic schools in Quincy, St. Mary School, St. Ann School, and Sacred Heart School 13 years ago and has developed into one of the most reputable and well-respected schools in the Boston and South Shore area. Joining the Academy this year is Principal Paul Kelly, a veteran school leader in the archdiocese who has most recently served as principal at Cardinal Spellman High School in Brockton and formally at St. Joseph Elementary School in Needham. What quickly became clear and indisputable was this:

Quincy Catholic is a "joyful" school. The staff is exceptional -- dedicated, creative, and engaging. They love their vocation and their students.

The students love to learn. They embrace the challenge of a rigorous curriculum and high expectations, while enjoying the benefits of small classes and a tight-knit, familial environment.

There is a healthy, refreshing balance of traditional structure and imaginative innovation, which provides a solid educational foundation with opportunities to creatively think out-of-the-box.

The faith experience is palpable. At QCA, the community puts their faith into action and the teachings of Jesus are at the center of the school culture.

With a very healthy enrollment, dedicated teachers and staff, a visionary School Board, supportive families and the spiritual guidance of Father Lou Palmieri, Quincy Catholic Academy has expanded and improved over the years. A full-time nurse and school counselor ensure that the physical, social, and emotional health of students is carefully monitored and nurtured. The Early Childhood program has expanded to include five bright and beautiful classrooms: two three-year old preschool classrooms and three four-year old classrooms and a new multi-purpose playground. Early Childhood teachers have earned a master's degree as part of the Lynch Foundation Early Childhood Initiative. The computer lab houses 25 iMacs, which are consistently updated to accommodate a robust technology curriculum, including Robotics in the middle school curriculum. A new foreign language lab has been created with Chrome books supporting an online foreign language instruction that supports students from grade two to grade eight. The Musical Theater program has become a highlight of the Arts program at QCA with spectacular performances every spring. This year, the Arts program was expanded to include the younger students in an all-school contemporary Liturgical choir.

The City of Quincy is blessed to have such a vibrant Catholic School at the heart of its center; its convenient location in North Quincy, very close to the highway, makes it an excellent destination school as well for families from many surrounding towns and communities.

Quincy Catholic Academy is more than a school. It is an experience, one that transforms lives and one that helps develop children into young people of integrity, empathy, intelligence, and faith. We invite you to be part of the experience. We invite you to discover the authentic JOY that exists at Quincy Catholic Academy.

The JOY of learning; the JOY of community; the JOY of Faith in Action!

For more information about upcoming OPEN HOUSE on Wednesday, Feb. 8, at 2:30 to 3:30 and 6:00 to 7:00 p.m., as well as other Admissions events, contact the main office at 617-328-3830 or visit our website at www.quincycatholicacademy.org.



PAUL KELLY (PAUL.KELLY@QUINCYCATHOLICACADEMY.ORG OR 617-328-3830) IS THE SCHOOL PRINCIPAL. ESTABLISHED IN 2010, QUINCY CATHOLIC ACADEMY (QCA) LOCATED IN QUINCY, MASSACHUSETTS, IS A ROMAN CATHOLIC ARCHDIOCESAN SCHOOL ENROLLING STUDENTS IN PRE-KINDERGARTEN (STARTING AT AGE THREE) THROUGH GRADE EIGHT.