Malden Catholic nurturing students who thrive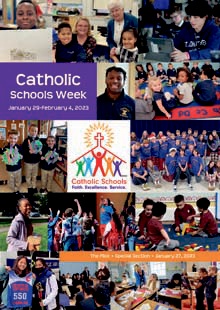 One might say that resilience is an essential ingredient in the DNA of Malden Catholic and its students. It is a resilience rooted in institutional history, in mission, and in core values. All of these inspire students today!

Theodore James Ryken, founder of the Xaverian Brothers, was known for his "persistent plodding." Trained as a shoe-maker, neither wealthy, nor powerful, nor especially bright nor talented, Ryken let faith and persistence steer his path. Struggling past the adversity of his childhood loss of parents, the regular disappointments in early attempts to found a religious congregation, the No-Nothing bigotry encountered by his first American communities in the 1850s, and the almost overwhelming financial challenges as his congregation grew, Ryken stubbornly persisted, becoming a model of resilience. God was his anchor.

Malden Catholic High School, part of Ryken's legacy as one of thirteen Xaverian-Brothers-Sponsored-Schools in the United States, was itself born in adversity in 1932, at the peak of the Great Depression. The school, nonetheless, quickly established itself under direction of the Brothers and became for the largely blue-collar, Irish and Italian, Malden-Medford-Everett local community a beacon for academic discipline, athletic prowess, Catholic identity and a springboard toward upward mobility. The school recreated itself in 1968, moving from Highland Avenue to its current Crystal Street location and regionalizing more widely. Students now enroll in Malden Catholic from over 40 Massachusetts communities and five countries.

Again, in 2018, Malden Catholic reinvented itself, adding a Girls Division to what had been a traditional Boys program. In what is known as a co-divisional model, where girls and boys learn in separate classes, yet benefit from a variety of mixed-gender activities, students enjoy classes attentive to unique needs and learning styles. Reflecting Malden Catholic's adaptive resilient style, in five short years, the Girls Division has grown to become the largest and fastest-growing single-gender girls' high school program in the state. Malden Catholic now is near capacity at 775 students and maintains an almost equal gender balance. Its 30-million-dollar investments in facility renovation over the past 15 years have also positioned Malden Catholic well for the future. Administrative courage and planning, tenaciously dedicated teachers, and resilient students brought the School very successfully through the trauma of the pandemic. Now in 2023, Malden Catholic is ready to grow, eager to thrive!

Malden Catholic's institutional resilience is clear, but what about the students? Do today's students have the same grit, determination, and swagger that got their predecessors through swathes of tough times? Yes! Current junior co-captain of MC's Girls Swim Team, Thea Sanzone, is a prime example of that. Last summer, Thea sustained a terrible boating accident, her arm severely lacerated by a boat's propeller. Nonetheless, through vigorous rehabilitation and with hope of leading Malden Catholic's team in the fall season, she brought herself back to competitive level -- all while maintaining highest honors in her four Advanced-Placement and two Honors-level courses. And compete she did: Thea not only gained entry into the State Tournament but she garnered sixth place in the State for the 100m Individual Breaststroke, and her medley team captured sixth and seventh places in the 200m Relay and in the 200m Freestyle!

While Thea's experience is exceptional, Malden Catholic immerses all students in a faith-based environment that remains faithful to its mission, amidst role-model adults who deliver thoughtful programming that ultimately offers protective buffers to adversity and promotes resilience and tenacity.

Resilience can be taught, and it can be learned. The spiritual underpinnings of MC programing, particularly represented in the Xaverian spiritual values of humility, simplicity, compassion, trust, and zeal, shape students toward optimism and hope. They help students to frame life's experiences as challenges, not threats, to understand most stressors as transient and to reach out to others for support and strength in difficult times. They invite students to see deeper meanings in events and to find peace of spirit in an assurance of God's love. They also encourage students to embody life-long habits of service. All these, coupled with ample opportunities for worship, promote resilience among a student body that is 42 percent racially diverse, widely stratified economically, and gifted with broad academic abilities.

Outlets for service abound. This year alone Malden Catholic students and families have sponsored a successful Baby Clothing Drive, donating over 400 pieces of baby apparel; a Thanksgiving Food Drive, providing the makings of hundreds of meals; a Pediatric Cancer Drive; a Christmas Toy Drive offering over $10,000-worth of toys to Malden agencies. Campus Ministry is poised to kick off a Winter Coat Drive this week. Over four years, MC's Make-a-Wish Club has raised over $40,000. Annual student Christian Service requirements train students to share talents, practice generosity, and honor the needs of others.

Additionally, the classroom balance of rigor, care, and support further develops students by promoting competence in flexible thinking, time management, and organization. Homeroom advisors, leadership training opportunities, regular counseling services, the aid of learning specialists in the school's Brother Kevin Program, and the daily expertise and feedback from talented faculty all conspire to create a culture of resilience where students can thrive. As Malden Catholic students step into a new year, they will do so with a legacy of care beside them in a community where resilience continues to pave the way!



About Malden Catholic

Since 1932, Malden Catholic High School has shaped emerging leaders in our community, claiming a Nobel Laureate, a Senator, two ambassadors, and countless community and business heads among its alumni. Annually, graduates attend some of the nation's most renowned universities, including Harvard, Dartmouth, Georgetown, Brown, Cornell, Tufts, Duke, Georgia Tech, Boston College, Northeastern, Boston University, and Amherst College. Foundational to student success is Malden Catholic's co-divisional model, which offers the best of both worlds, single-gender academics during the day and integrated social and extracurricular opportunities after school. Malden Catholic is known in the community for its rigorous academics, SFX Scholars Program and award-winning STEM program (Science, Technology, Engineering and Math) with electives such as Robotics and Engineering Design. Malden Catholic curricula is designed to improve individual growth mindset, leadership principles and success outcomes along with integrating the Xaverian values of trust, humility, compassion, simplicity and zeal (www.maldencatholic.org).



BROTHER THOMAS PUCCIO, CFX, ED.D., A XAVERIAN BROTHER FOR 55 YEARS, SERVES AS DIRECTOR OF MISSION INTEGRATION AT MALDEN CATHOLIC AND TEACHES THEOLOGY. IN HIS 37 YEARS AT THE SCHOOL, HE HAS ALSO SERVED AS HEADMASTER AND AS LONG-TIME PRINCIPAL.