Celebrating 10 years of Catholic, classical, character-focused education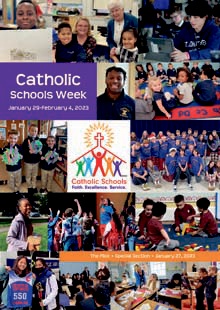 Ten years. One mission. St. Benedict Classical Academy (SBCA), an independent Catholic classical school for children from preschool through grade six in South Natick, is celebrating our 10th year. What began as the dream of a small group of parents, to create an authentically Catholic school, has blossomed into a vibrant school community. In the past decade, we have grown from serving 26 students in 2013 to our current enrollment of 234 students. In our opening year, SBCA drew students from Natick and Walpole; today, SBCA students commute from 38 communities -- including Lexington, North Oxford, and Woonsocket, RI. We now educate students as young as three years old in our Montessori Early Learning program, which also utilizes the Catechesis of the Good Shepherd religious education curriculum. Graduates of SBCA have thrived in a diverse array of secondary school environments and we are particularly proud to watch the first group of SBCA high school graduates continue to excel at college in every sense. Compassionate, faithful, balanced, intelligent, bold, and talented are just a few words that have been used to describe SBCA graduates to us by the educators and mentors who have received them.

We have certainly grown and evolved by leaps and bounds -- a growth that does not appear to be slowing! However, while much has changed, so much remains the same. Our commitment to our founding mission and vision deepens with each passing year. And each day our teachers and staff continue to guide our students with the joy that is characteristic of SBCA and each day our students reflect that same joy, as they are consistently immersed in the Good, the True, and the Beautiful. They learn about the great riches of our civilization and how to love and serve Our Lord and His Church. They follow the Way of St. Benedict -- "To be the light of Christ in our Prayer, Work and Play" in all areas of their SBCA educations -- from their academic studies to their co-curricular involvement in our academic enrichment program or on our athletic teams, students have a diverse array of opportunities to be challenged and supported as they grow in virtue.

The mission of St. Benedict Classical Academy is to offer a distinctive classical Catholic education for the whole child, cultivating intellectual and moral virtue in a joyful, Christ-centered environment, rooted in the riches of Catholic magisterial teaching as defined by the Catechism of the Catholic Church. In uniting the Catholic faith with a classical curriculum and integrating into the life of the school the virtues first learned in the family, our students gain not only knowledge, but an appreciation of education as a noble pursuit.

Our curriculum is animated by the classical philosophy of education in which the natural, cognitive development of children is honored. Instruction begins in the younger grades with a strong emphasis on developing mastery over skills in the core subject areas of reading, writing, grammar, and math while building a broader framework of knowledge in history, literature, language, and science. Students in the older grades build on this foundation as they learn to analyze, question, and think critically about topics studied. This progression from learning facts to developing the ability to think analytically, combined with the integrated study of classical subjects, provides young children with a dynamic learning experience, which bestows them with the tools they need to think for themselves and to become independent, lifelong learners.

The practice of the Catholic faith is woven into everything we do at SBCA. Prayer begins, ends, and punctuates our days -- weekly Mass celebrations and virtue talks are bolstered by regular access to the sacrament of confession and daily access to our on-campus chapel for adoration. In every subject, we seek to celebrate our faith and support our students in learning to serve God by serving others, and we make concerted efforts to allow our students the opportunity to serve through community service and outreach. Exposure to the beautiful language of our Church, Latin, begins even in Pre-K where Latin phrases and prayers are sung, recited and visible in our classrooms. In grade three formal academic study of Latin begins.

Soon, we will break ground on building our permanent home on a beautiful 13-acre property less than one mile from our current campus. It is with great joy, anticipation, and humility that we look forward to this next chapter of further establishing this school for the Lord's Work -- forming saints for heaven and scholars for academia for generations to come.



JAY BOREN IS THE HEADMASTER OF ST. BENEDICT CLASSICAL ACADEMY, A CLASSICAL CATHOLIC ELEMENTARY SCHOOL IN SOUTH NATICK, MASSACHUSETTS. ORIGINALLY FROM MOBILE, ALABAMA, MR. BOREN ATTENDED SEMINARY BEFORE PURSUING A MASTER'S DEGREE IN LIBERAL ARTS AND A POSTGRADUATE EDUCATIONAL SPECIALIST DEGREE IN EDUCATION LEADERSHIP, MANAGEMENT AND POLICY. INITIALLY INSPIRED BY POPE ST. JOHN PAUL II'S CALL FOR A NEW EVANGELIZATION, MR. BOREN CHOSE TO DEDICATE HIMSELF TO CATHOLIC EDUCATION SO THAT HE COULD "TRULY EDUCATE HIS STUDENTS IN THE BEAUTY OF OUR FAITH." MR. BOREN IS PASSIONATE ABOUT COLLEGE FOOTBALL AND LOVES SPENDING TIME WITH HIS WIFE AND FOUR YOUNG DAUGHTERS.