St. Joseph Retret House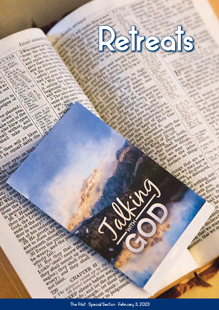 "Why have you come?" I often ask persons who come to St. Joseph Retreat House, staffed by the Oblates of the Virgin Mary. Their answers are varied, depending on "where they are at" in their lives. For some, it may be the need to remove themselves from the activities of life and rest in the Lord. For some, it is the felt need to reconnect with the Lord and perhaps discern next steps on the journey of life. For others, it may be the curiosity of having a directed retreat experience. Many need healing and a new focus on situations. Whatever the reason, many people do find their way to our retreat house in Milton, MA, and leave with expressed gratitude to us for having shared our charism with them: "My heartfelt gratitude for what you do! Please continue!"

The founder of the Oblates of the Virgin Mary, the Venerable Bruno Lanteri, wanted the Oblates to offer the Ignatian experience as one very important means, among many others, of serving the Gospel of Jesus Christ, the People of God, and humanity as we travel through history with the loving and merciful presence of Our Lord.

The world we live in today has an abundance of activities, technical advances, diversions, and consumer goods that can and do clutter and baffle our minds and hearts. Even though much of this is good, they can fuel a way of life that becomes unhealthy and confusing. We can lose our focus to what is essential and consequently deepen feelings of sadness and meaninglessness. St. Joseph Retreat House offers a space of quiet and silence so one can focus on the Lord, be fed by the Word of God, and become reordered in Christ. Divine love needs to be perceived and received in the silence of our hearts.

You are very welcome to join us!



FATHER WILLIAM NEUBECKER, OMV, IS THE DIRECTOR OF ST. JOSEPH RETREAT HOUSE.