Choosing a faith-based senior care community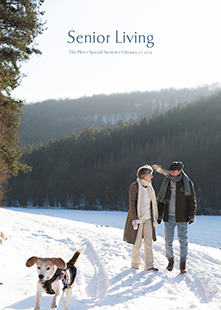 As a senior, one of the most important decisions you may face is choosing the right retirement community. Location is key, as it is the right mix of amenities, and care options are also important to note. But did you know that your faith could be part of that decision-making process, too? Along with the comfort of living in a welcoming, resource-filled community, faith-based, non-profit senior care communities also provide a variety of unique benefits not found in other senior care options.



A true community

Moving to a faith-based, non-profit community means enjoying a spiritually vibrant lifestyle in a supportive community with shared values. Making the move is a big decision, and many seniors rely on their faith throughout the experience. When moving to faith-based communities like Carmelite System communities, seniors and their loved ones have confidence in their decision knowing their new home offers spiritual support, fellowship, and many opportunities to deepen that faith.

When asked why she loved her Carmelite System community, May, a resident at Carmel Terrace, shared: "I recently found these words written by a French philosopher: 'In the depth of winter, I learned within me lay an invincible summer.' Carmel Terrace has become my summer." She shared her appreciation for the staff and fellow residents and then added, "The chapel and the Mass keep us in the presence of the Lord. I have not felt this safe in a long time."

Ida, another resident, shared: "All the residents are friendly and warm. All the staff is always willing the help with any problems you may have."

In a faith-based senior care organization like the Carmelite System, the beliefs and motivations inspiring each member of the community are mission-based, because the community itself is a mission of the larger religious body. This creates a culture of service, connection, and shared responsibility rarely found in for-profit, corporate-run communities. Instead of profit, our priority is on the people we serve, so residents who move to Carmelite System communities have security in knowing their care is our top-most concern. This mission-driven atmosphere is reflected in the active, enriched lives that our residents lead.



Faith-based senior care

Founded in 1999, the Carmelite System supports the mission and philosophy of the Carmelite Sisters, proclaiming the value and dignity of the aged and infirm. Not only is our history rooted in sacred ground, but the service we provide -- caring for these seniors when they are most in need -- is also sacred. Our staff continuously provides and improves upon collaborative ways to meet the needs of today's elderly and fosters the healing ministry of Christ in Catholic healthcare.

As a Carmelite System community, a strong faith is woven into the fabric of our services, team, and campus, as are the core values of the Carmelite Sisters for the Aged and Infirm:

Sanctity of Life: Our belief is that all life is sacred, and we advocate especially on behalf of the elderly.

Hospitality: Our belief is that each community should provide a welcoming, person-centered environment and atmosphere of a "Home."

Shared Commitment: Our belief is that quality of care is attained by a team spirit that has a shared sense of achievement, accountability, ideas, insights, and commitment.

Compassion: In the words of our Foundress Venerable Mary Angeline Teresa, we strive to be "kinder than kindness itself."

At Carmelite System communities, all residents have the assurance of being honored, treated, respected, and cared for. With our history in senior care, you can count on us to provide personalized services and care customized to your or your loved one's individual needs. Likewise, with our foundation in the church, we celebrate faith-based senior care and welcome residents of all religious backgrounds.

The Carmelite System is a family of over a dozen communities nationwide, four of which are in the greater Boston area:

-- St. Patrick's Manor in Framingham, MA, offering Memory/Dementia Care, Post-Acute Care, Long-Term Care, Rehabilitation, and Respite Care.

-- Carmel Terrace in Framingham, MA, offering Assisted Living, Independent Living, and Respite Care.

-- D'Youville Life and Wellness Community in Lowell, MA, offering Independent Living, Assisted Living, Memory/Dementia Care, Post-Acute Care, Long-Term Care, Rehabilitation, and Hospice.

-- Marian Manor in South Boston, MA, offering Post-Acute Care, Long-Term Care, Rehabilitation, and Respite Care.

Visit www.carmelitesystem.org/faith-based-senior-living-communities to learn more about our faith-based communities and locations!