Senior community curtails COVID-19 with data-driven protocols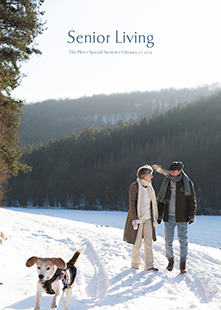 As many congregate care facilities scaled back on COVID-19 safety protocols, one senior living community strengthened its approach to public health. Residents at not-for-profit New Horizons at Marlborough benefited from targeted COVID-19 protocols, thanks to an on-campus wastewater testing pilot program.

New Horizons was invited to participate in the wastewater study by Concentric by Ginkgo, its weekly COVID-19 testing provider. Concentric's aim was to evaluate multiple methods of testing wastewater to determine the level of COVID-19 in a community. It placed collection devices in utility holes on the campus and collected samples from them three times each week for testing.

"Wastewater monitoring essentially served as an early warning signal," said New Horizons Associate Director Mark Veits, who liaised with testing administrators throughout the eight-week study. "Information is power, and in this case, it empowered us to be more proactive."

Launched in conjunction with Concentric by Ginkgo and LuminUltra Technologies, the program monitored wastewater from approximately 235 residents and staff at the populous MetroWest assisted and independent living community. Data was made available to Veits via weekly summary reports as well as real-time personal phone calls.

"Having those numbers really helped to inform our decisions about when to test, when to press pause on communal dining, and so on," said Veits. "The data allowed us to be nimbler and more strategic in our efforts to minimize community spread. And it was gratifying to play an active role in the science that is aiming to safeguard our public health."

New Horizons' multi-layered COVID-19 protocols also include weekly on-site PCR testing at no cost to residents and staff. In addition, free rapid tests have been made available upon demand, 24 hours a day, and strict mask protocols remain in place for employees as well as residents in assisted living and memory care and their visitors.

In January 2021, New Horizons at Marlborough was among the first senior living communities in the Commonwealth to receive COVID-19 vaccinations. It has since hosted multiple on-campus vaccine and booster shot clinics.



About New Horizons

Located on a heavily wooded 40-acre campus at 400 Hemenway Street, New Horizons at Marlborough offers a continuum of care, including independent living, assisted living, memory care, and geri-psych programs. It is owned by Woburn-based Cummings Foundation, one of the largest private foundations in New England.

Group activities at New Horizons include regular fitness programs, educational presentations, movies, watercise classes in the heated lap pool, musical entertainment, farm animal visits, and off-site excursions. Resident art programs and displays, as well as on-campus Catholic, Protestant, and Jewish religious services, are also offered.

Although the community is secular, New Horizons' many Catholic residents participate in Mass at the large on-site chapel as celebrants as well as lectors, greeters, eucharistic ministers, and sacristans. In addition, regular prayer and communion services provide residents with multiple opportunities each week to practice their faith as part of a community, without leaving home.

The strictly not-for-profit New Horizons at Marlborough is currently welcoming new residents to its MetroWest senior living community. Thanks to a unique rate-lock policy, new residents are guaranteed no increases to their rent and board fees for at least their first six years. These fees include all charges for lodging, gourmet meals, water, heat, air conditioning, basic cable TV, local telephone service, parking, and regular maintenance.

Prospective residents and their families are encouraged to contact New Horizons at Marlborough at 508-460-5200 to arrange a time to tour the campus, meet current residents and staff, and sample a home-cooked meal. More information about New Horizons is available at CountryCommunities.com.