Six apps every senior should consider having on their devices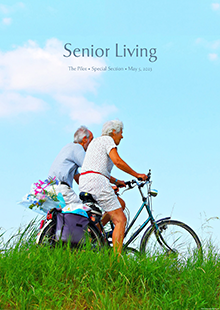 Apps can make our lives easier and even help keep us safe. Here are six apps every senior should consider having on their devices.

The pace at which technology changes is sometimes frustrating for seniors, but technology can also help enhance our lives. Most seniors now own a smartphone, and a significant number also own a computer or tablet. So, it makes sense to put your devices to work with some apps that are truly helpful. Here are six apps every senior should consider downloading onto their devices.



1. LibriVox

Do you or your senior loved one enjoy reading but have trouble with all that small print? Try LibriVox! It offers over 15,000 free audio books, and new books are added every day. Plus, with LibriVox, you can either stream your book or download it to listen at another time that's more convenient for you, which is great for traveling or sitting in waiting rooms.



2. Kindle

If you'd rather read than listen to an audio book, Kindle is a wonderful app to have. It turns any tablet into an e-reader while giving you access to loads of books. Plus, you can easily adjust the lighting and size of the print, so you don't strain your eyes.



3. Simple Social

Do you love keeping up with friends and family on social media but can't stand the ads, videos, and other irrelevant content that clutters the screen and makes it difficult to find what you want? That's where Simple Social comes in. It simplifies the interface so you can enjoy social media sites without feeling overwhelmed or straining your eyes. Just browse your favorite social media through this app for a simple, enjoyable experience.



4. Lumosity

Exercising your brain is incredibly important as we age. So, seniors should always use some sort of brain training to keep the mind sharp. Lumosity makes it easy to engage in brain training at any time. Plus, it lets you know where your strengths and weaknesses are, so you know where to focus. And with more than 40 games that adapt to your progress, you're unlikely ever to get bored!



5. Senior Discounts

Saving money is always helpful, and the Senior Discounts app shows you exactly where you'll get the most bang for your buck. You can search by your age and the type of business you're interested in, and the app will show you which businesses offer senior discounts. In an economy where every dollar counts, this app can be very helpful!



6. MediSafe

MediSafe was created in response to a harrowing experience two brothers had when their father nearly died from taking an extra dose of insulin. Determined to prevent other families from having similar experiences, they designed an app that reminds you when to take your medicine, warns you about possible interactions between your medicines, and allows you to link a family member or friend who is alerted if you skip a dose.

It's easy to forget when to take your medicine or whether you've already taken it, especially if you have multiple prescriptions. Fortunately, MediSafe makes it easy to keep track of your medicines so you don't make dangerous mistakes.

Apps are wonderful, but they don't do everything. If you or your senior loved one needs assistance with in-home health care, reach out to Celtic Angels Home Health office, and we'll be happy to help.



MARIA BURKE, RN, IS THE OWNER OF CELTIC ANGELS HOME HEALTH CARE.