This Holiday Season choose joy!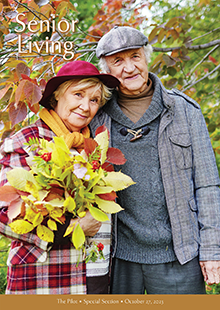 With the holiday season just around the corner, it's time to start planning your approach to enjoying this special time of year. There are so many wonderful, unique, and fulfilling ways to bring joy to your world as well as the world of others. Here are a few ideas to start you thinking:



Get into the spirit

Kick-off the season by considering what you enjoy most about this time of year. Is it decorating your space with holiday décor? Belting out Christmas hymns and carols? Baking old family recipes? Sending cards to special people who are near and far? Visiting with beloved family and dear friends? Watching Rudolph the Red-Nosed Reindeer with your grandchildren? Wrapping gifts? Attending a holiday Mass? Indulging in a special meal? Any activity that makes you smile will help you get into the holiday spirit.



Support local holiday events

Most cities and towns host several different festive holiday celebrations and events, including concerts, pageants, tree lightings, holiday light displays, and even parades. Make plans to get out and about. Enjoy being an active part of and supporting your community's events, theatres, and churches as they celebrate the season.



Stroll down memory lane

Be sure not to get caught up in the hustle bustle of the season. Plan time to take a stroll down memory lane by sharing stories and photos from past holiday seasons with those you love. Pass down traditions, ornaments, recipes, favorite activities -- anything you'd like to live on for your family's future celebrations. Sharing memories and passing down, or modifying, traditions is often a crowd pleaser when spending time with multiple generations of the family and helps loved ones maintain a deep connection to one another.



Be mindful of your money

It may be challenging to be mindful of spending money on gifts during the holidays. However, it's important to remember the holidays are about celebrating our beliefs and spending time with those who mean the most to us. Consider creating a budget you're comfortable with and committed to adhering to. Not only will you keep your stress level in check, you'll also be reminded to keep your focus on things that truly matter and make you happy.



Give back to your community

All year round there are opportunities to volunteer for a variety of worthy causes in your community. During the holiday season, due to considerable need and in the spirit of generosity, there are even more. Consider donating to your church's food pantry, pitching in at a soup kitchen to serve a meal, buying a toy for a deserving child, or donating to veterans in need of basic necessities. Bring the spirit of the holidays to those in need of a helping hand.



Choose joy!

The key to enjoying the holiday season is to proactively decide to be active, positive, and involved. Surround yourself with family members and people you love and prioritize getting into the spirit, attending your community's holiday events, reminiscing about past holidays, managing your expenses, and giving back to those less fortunate -- all of which are very likely to bring you joy!

If your family is looking for skilled nursing, including advanced memory care, assisted living, or other senior care, consider one of Covenant Health's communities located in the Archdiocese of Boston:

-- Brockton -- St. Joseph Manor Health Care, 215 Thatcher Street -- sjmbrockton.com.

-- Cambridge -- Youville House Assisted Living Residences, 1573 Cambridge Street -- youvilleassistedliving.org.

-- Haverhill -- Penacook Place,150 Water Street -- penacookplace.org.

-- Lawrence -- Mary Immaculate Health/ Care Services, 172 Lawrence Street -- mihcs.org.

Mary Immaculate Nursing and Restorative Center

Marguerite's House Assisted Living

-- Lexington -- Youville Place Assisted Living Residences, 10 Pelham Road -- youvilleassistedliving.org.

-- Waltham -- Maristhill Nursing and Rehab Center, 66 Newton Street -- maristhill.org.