Pioneer environmentalist stays green at Marlborough senior community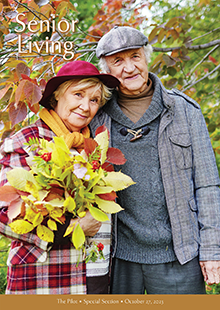 Pioneer climate change scholar Robert "Bob" Burke has been enamored of the natural world for as long as he can recall. And living at New Horizons at Marlborough, he continues to enjoy the wooded parkland all around him.

As a youth in Newton, Massachusetts, Bob delighted in cycling trips to Walden Pond and Mount Monadnock. In later years, he drew inspiration from transcendentalist authors (and fellow New Englanders) Ralph Waldo Emerson and Henry David Thoreau. And today, he champions the teachings of Pope Francis, whose outspoken advocacy around climate change has helped to fuel environmental protection efforts within the Catholic community and beyond.

Following his graduation from Tufts University in 1960, Bob began his career as an intelligence officer in the U.S. Navy. He spent five years in North Africa and one year aboard an aircraft carrier before completing his service at the Department of Defense, in Washington, D.C. Bob then returned to school to pursue a growing interest in the environmental impact of pollution. After earning a master's degree in international relations from American University, he joined the newly formed Environmental Protection Agency (EPA) in 1970.During his time at the EPA, Bob wrote reports that were among the earliest published works linking humanity's actions to a climate change trend and potential climate crisis. These materials succeeded in helping to raise public consciousness and garner support for new state and federal legislation.

Time spent as a traveling federal representative ultimately allowed Bob to return to New England. He moved to Rhode Island on assignment to help organize and implement legislation for the Clean Air/Clean Water Act. Bob's analyses of the negative effects of diesel fuel emissions had a significant impact in regulating BandM Railroad and were a key precursor to legislation requiring annual emissions tests for all vehicles. He also used these reports to promote alternative forms of public transit, such as vans for elderly and disabled commuters.

Throughout his service to the U.S. military and government, Burke remained devoted to enjoying and protecting the natural world. He contributed to the growth and development of the EPA, and has been recognized for his lifetime achievements by both Massachusetts Health Association and Massachusetts Conservation Commission. He also served a 14-year term on the Newton city council.

This climate change specialist now lives at New Horizons at Marlborough, a close-knit retirement community in MetroWest Boston that is surrounded by 40 acres of scenic woodlands. Residents at the strictly not-for-profit community enjoy a highly social atmosphere with access to a variety of daily group activities, including fitness classes, movies, book club, educational presentations, musical entertainment, farm animal visits, and off-site excursions.

Bob also takes frequent opportunities to indulge in his other favorite pastimes. The campus' heated indoor lap swimming pool allows him to swim through every season, and he is regularly found among friends dominating a game of mahjong.

New Horizons offers a continuum of care, including independent living, assisted living, memory care, and geri-psych programs. It is owned and operated by Woburn-based Cummings Foundation, which has awarded more than $500 million to greater Boston nonprofits, including grants of at least $100,000-$500,000 each to Catholic Charities, Catholic Schools Foundation, Lowell Catholic, Nativity Preparatory School, and St. Vincent DePaul Society, and dozens of other Church-run facilities.

Although the community is officially nonsectarian, New Horizons' many Catholic residents participate in Mass at the large on-site chapel as celebrants as well as lectors, greeters, eucharistic ministers, and sacristans. In addition, regular prayer and communion services provide residents with multiple opportunities each week to practice their faith as part of a community, without leaving home. On-campus Protestant and Jewish religious services are also offered.

Thanks to a unique rate-lock policy, nearly all new residents at New Horizons are guaranteed no increases to their rent and board fees for at least their first six years! These fees include all charges for lodging, gourmet meals, water, heat, air conditioning, basic cable TV, local telephone service, parking, and regular maintenance. Monthly "room and board" fees for a single person, including three homecooked meals daily, are available for $2,950 per month.

Prospective residents and their families are encouraged to contact New Horizons at Marlborough at 508-460-5200 to arrange a time to tour the campus, meet current residents and staff, and sample a home-cooked meal. More information about New Horizons is available at CountryCommunities.com.