Nuns Against Gun Violence hosts webinar to address gun violence epidemic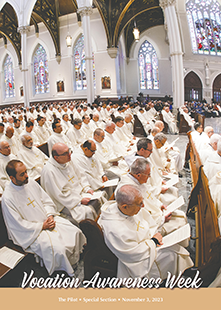 Nuns Against Gun Violence is a coalition of Catholic Sisters and their allies that affirms the value of human life through prayer, education, and advocacy for common sense, evidence-based, gun violence prevention. Formed in April 2023, the coalition consists of more than 40 congregations of Catholic Sisters and allied organizations. This number is growing daily!

On Nov. 8, 2023, from 7:00 to 9:00 p.m. ET, the Sisters of St. Joseph of Boston will join other Catholic sisters and their allied organizations from around the country in a Zoom webinar to address gun violence. Nuns Against Gun Violence is excited to host "Beating Guns: Hope for People Weary of Violence," a webinar with author and activist Shane Claiborne. The webinar will take place on Zoom on Nov. 8, from 7:00 to 9:00 p.m. ET. The webinar is open to the public. You are invited to join, too. For more information about the webinar, please visit our website at www.csjboston.org/news-events/event-dates.

Shane Claiborne is a prominent speaker, activist, and best-selling author. Claiborne is a champion for grace, which has led him to jail advocating for the homeless and to places like Iraq and Afghanistan to stand against war. Now grace fuels his passion to end the death penalty and help stop gun violence. His recent book "Beating Guns: Hope for People Weary of Violence" will serve as inspiration for his presentation. Claiborne will also address concrete ways that we can work for an end to gun violence.

Director of the Peace, Justice, and Ecological Integrity Office for the Sisters of Charity of St. Elizabeth, Father Terrence Moran, notes, "Shane Claiborne is deeply rooted in gospel nonviolence and very experienced in dialogue across ideological divides. Nuns Against Gun Violence is excited to offer this opportunity to learn from him."

Following Claiborne's presentation, two women religious will address how their congregations are addressing gun violence. Sister Patricia Millen, OSF, will address how her congregation, the Sisters of St. Francis of Philadelphia, took a corporate stance on gun violence. Sister Annette McDermott, SSJ, will discuss the outreach of the Sisters of St. Joseph of Springfield to the people of Springfield after a recent episode of gun violence.

Jennifer Kryszak, director of Strategic Planning for the Franciscan Peace Center, states, "We are living at a time when gun violence affects all segments of our society. This webinar will address some of the on-going effects of that violence by providing us with hope for a future free of gun violence and concrete ways that we as individuals and communities can take action."

No need to register. Just click on the ZOOM link a few minutes before the presentation:

us02web.zoom.us/j/82630936976?pwd=VG4rL2tEQzRlbkliSWpPWUl5eHhJZz09

Meeting ID: 826 3093 6976

Passcode: XT4GxD

Questions: Contact: Angela Howard-McParland, Nuns Against Gun Violence

NunsAgainstGunViolence@gmail.com



PEGGY COMFREY, CSJ, IS A SISTERS OF ST. JOSEPH OF BOSTON JUSTICE PROMOTER.