Bellingham teen to earn Eagle Scout title with rosary walk project
---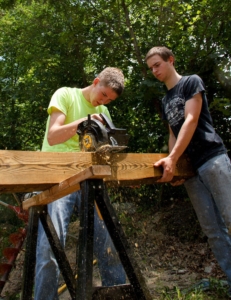 Sean Waclawik, 17, uses a circular saw modified with a chainsaw blade to cut a post for a Rosary walk, June 29 at St. Brendan Parish in Bellingham, with help from friend Chris Goguen, 16. Pilot photo/Christopher S. Pineo
---
Page 2 of 2
Father David J. Mullen, pastor at St. Brendan's, called him with good news soon afterward.
"The next week, Father called me and said we went over," Waclawik said.
The community raised $1,200 for the Rosary Walk, which will complement an outdoor stations of the cross built for another Eagle Scout project years before.
"Your Eagle Scout project is like being project manager," Waclawik said.
"It's all supposed to be prep for the real world," he said.
The first day of construction he had friends digging with him, his younger brothers lending a hand, and his father moving earth with a Bobcat.
"This is giving him some really good experience. When you work on a project there is all kinds of unforeseen problems that arise, and you have to deal with it. You try to plan for them ahead of time, but you can't plan for everything," said Sean's father, Jim Waclawik.
Sean, who is home-schooled with a keen interest in computer science, is preparing for college, considering ROTC with the Air Force, and rides with a competitive cycling team in his free time.
His father said he stays busy.
"He's into all sorts of things. He's a hunter. He's into Boy Scouts, so of course he picks the huge Eagle project," Jim said.
As Sean prepared to use a specially modified chainsaw to cut a 6x6 for a post in the rosary walk, his father, a software engineer accustomed to managing projects, said he could see the experience coming in useful as his son becomes an adult and finds a career.
"I wish I had done this when I was a kid. I really do," Jim said.
Father Mullen said when Sean Waclawik approached him about the Rosary Walk, he knew the young man had what it took to finish the task, based on watching him grow throughout his time as pastor to the Waclawik family over the years.
"When he says he is going to do something, he does it. There is no question, if he says he is going to do something he will plan it well, and he will do it," Father Mullen said.
Page 2 of 2