Local
Priest-physician brings unique perspective to suicide debate
By Christopher S. Pineo
Posted: 8/17/2012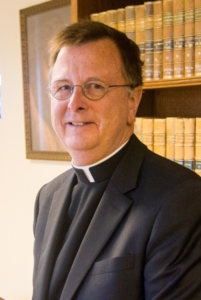 Provincial of the New England Province of Jesuits Father Myles N. Sheehan. Pilot photo/Christopher S. Pineo
---
WATERTOWN -- When Father Myles N. Sheehan says physicians do not need assisted suicide to provide appropriate end of life care, he is speaking from experience.

Father Sheehan is not only the provincial of the New England Province of Jesuits, but also a physician trained in internal medicine and geriatrics, a medical educator, and an expert in palliative care.

Speaking with The Pilot Aug. 13, he said he sees the proposal of legalized physician assisted suicide in Massachusetts as a failure to attend to the needs of the dying.

"I would like to see that people receive an approach that attends to their suffering in all its dimensions from the beginning of a serious illness," he said.

He said those dimensions include attention to spiritual needs as well as mental needs and physical needs.

"This is a place where like St. Ignatius said, 'Love needs to be shown in deeds not words.' The care and our whole way we approach people as they face the end of life is an issue that needs further attention. A distorted way to attend to it is what has come out of this assisted suicide (movement), but the underlying fears, concerns and discomfort about what the end of life might mean is real whether or not you agree or disagree," Father Sheehan said.

"I think it is very clear, in that, indeed we have a profound responsibility to provide excellent care for those who are facing the end of life, and that to move on to assisted suicide represents a failure for individuals and for our larger society," he said.

Father Sheehan said fear contributes strongly to attitudes that push people to choose to end their own lives.

"The major thing is that people are very frightened, and they are frightened about facing the end of life, their fear of being in pain or being a burden on others, or being alone when they die. So, as a consequence these fears and worries, maybe driven by the media or perhaps by the experience of someone in their family or a friend, lead them to think that assisted suicide would be a good option," he said.

He said that the healthcare system can address these fears, provided caregivers make a sustained effort to maintain high standards of treatment in the system and in society.

"I would argue that a lot of those fears can be overblown, that the cases where people died in great pain, or with a lot of suffering represent examples of bad medical care and failures of medical and nursing care. In that we can do better as a society," he said.

A native of Marshfield, Father Sheehan entered the Society of Jesus in 1985. In 1987 he took first vows before heading to Chicago where he earned a master's degree in philosophy with an emphasis on healthcare ethics. In 1991 he received his doctorate in medicine from Dartmouth, and completed a residency in internal medicine at Beth Israel in Boston.

"In Chicago I eventually became the senior associate dean of the medical school at Loyola University, Chicago," he said.

"I became very interested in caring for my older patients as they faced the end of life, and also began to write, got grants, and did a lot of work with improving palliative care both practically and in education for Catholic healthcare," Father Sheehan said.

After that he returned to Boston and completed a fellowship in geriatric medicine with the Harvard Medical School Division on Aging, before becoming director of geriatric consultation services at Beth Israel.

Throughout his time at Harvard he studied for his master of divinity degree at Weston Jesuit School of Theology in Cambridge and was ordained in 1994. He professed solemn vows in 2005.

On Aug. 8 he addressed Cardinal Seán P. O'Malley and the priests of the Archdiocese of Boston at St. John's Seminary in Brighton on why the clergy must actively work to oppose the initiative.

"My presentation focused on ways in which the priests could help parishioners understand the upcoming ballot initiative to be able to work with the fears and concerns that many have that might lead them to look at assisted suicide as a good thing," he said.

Father Sheehan put the issue in the framework of Catholic culture and said the shifting values in healthcare over the years have increased the focus on keeping patients alive at all costs rather than understanding natural death in the context of spiritual life.

"There is a bottom line that we have the fifth commandment 'Though shalt not kill,' and the killing of innocent life is considered intrinsically evil, that is, it is always wrong. And so to take the life, or to provide the means for a person to kill himself is considered an intrinsically evil act, because it violates first the life of the person. Second, it is a larger assault against what it means for human dignity," Father Sheehan said.

"The third part is that it diminishes all of us when the lives of some are considered expendable and not worth continued living," he said.