Local
Living the Gospel of Joy
By Sister Jeanne Morris, CDP
Posted: 1/9/2015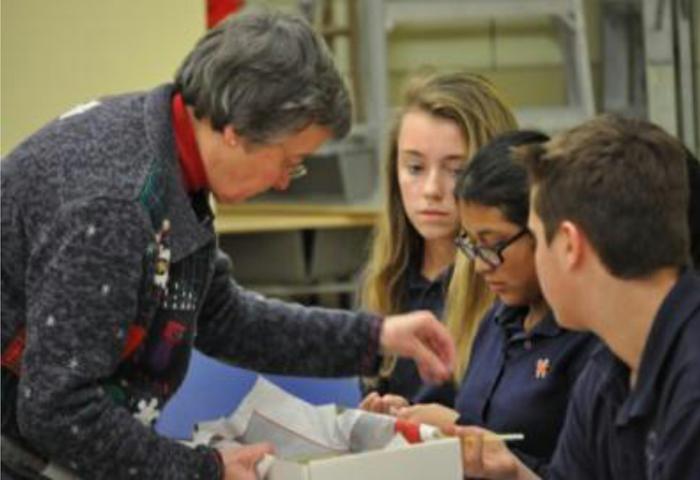 Sister Jeanne Morris, Abigail Rogers, Maggie Timmoney, and Brett Lampron, receiving a symbol of light of their baptismal commitment to live the Good News -- the Gospel of Joy. Photo courtesy/Karen Kedzierski, school photographer
---
We are the Sisters of Divine Providence, an international community, founded in Germany in 1851. In 1876, six young Sisters traveled to North America to carry forth the mission of the Congregation and to spread its charism of Providence to the United States. We were received into the archdiocese of Boston under the auspices of Sacred Heart Schools in Kingston, by Archbishop Richard Cushing in 1957. "We are impelled by the Spirit of Jesus to commit ourselves to co-create a world of compassion, justice and peace. We are guided by the legacy of our founder and foundress, Wilhelm Emmanuel von Ketteler and Marie de la Roche."

As provident women, we further commit ourselves to making God's Providence more visible in our world. We bring our prophetic witness and a deep trust and joy in God's Providence in ministerial positions in addition to the ministries that our community formally sponsors. As Sisters of Divine Providence, we are spontaneous, self-actualized individuals from United States, Korea, Germany, Peru, Puerto Rico, and the Dominican Republic, dedicated to social justice. We embrace compassion, peace and justice as ways to "make provident God's care for us."

Although I minister primarily in education, our charism invites us to meet the needs of the times, so our sisters have discerned many types of ministries from prison/hospital chaplains, social workers, nurses and administrators. The education of young people is one very simple and unique area in which the providential theme of co-creating with God is manifested. These young people are the future Church. In Norwood, the school named after St. Catherine of Siena, is preschool through grade 8, dedicated to education and religious formation. During the 2014 season of Advent, the eighth grade students of St. Catherine of Siena School participated in a community-wide service project under the guidance of their religion and science teacher, Sister Jeanne Morris, CDP. The students were asked to make a donation within their means. The money was then placed in a sealed white envelope devoid of name or an amount. Later in the month, through a ritual prayer service, capturing the theme of Pope Francis's Gospel of Joy and song from the Vision Vocation Network, "Wake the World," each student selected an envelope and was given the opportunity to suggest how that donation could be used to address a social need within the local area. Suggestions included: a donation to a family in need; Catholic Relief Services; Father Bill's Place; My Brother's Keeper; St. Vincent De Paul, the Norwood Food Pantry, and the Norwood Circle of Hope Foundation. Students were given the options of pooling their monies together or enlisting the help of family members to decide collectively how to contribute their funds to aid those in need.

At the conclusion of the project, a suggested outline process provided guidance for each student to write a reflection paper in response to how they contributed their donation. The Advent period was also devoted to the creation of "My Prayer for You,'' a prayer each eighth grader wrote for another after randomly selecting a classmate's name from a box. The identity of their chosen recipient remained secret, and with a suggested outline, each student composed their Prayer of Praise for a fellow classmate. This activity promoted community spirit and an awareness that each individual is created from providential love and is formed in the image and likeness of God.

Living the Gospel of Joy is contagious as Pope Francis shares, "We must restore hope to young people, help the old, be open to the future, and spread love. Be poor among the poor. Include the excluded and preach peace ... find new ways to spread the Word of God to every corner of the world."

I am deeply touched by the global impact of the social concerns expressed by Pope Francis in his most recent Christmas message, "Vast numbers of children today are victims of violence, objects of trade and trafficking ... they need to be saved." This was most horridly demonstrated on Dec. 16, 2014, when reports were made that the Taliban took their war on education to assault on a crowded school in Peshawar that killed 145 people -- 132 of them uniformed schoolchildren.

My ministry comes from my contemplative prayer, as the foundress of my community, Marie de la Roche expressed so eloquently, "my ministry flows from my contemplative prayer." Let the young students we witness in our teaching be the future Church to carry on the Good News -- the Gospel of Joy.

Sister Jeanne Morris, CDP, teaches religion and science at St. Catherine of Siena School, Norwood. The website for the Sisters of Divine Providence is www.cdpsisters.org.