Local
Pope St. John XXIII Seminary breaks ground on new learning center
By Msgr. Peter Conley Special to The Pilot
Posted: 6/12/2015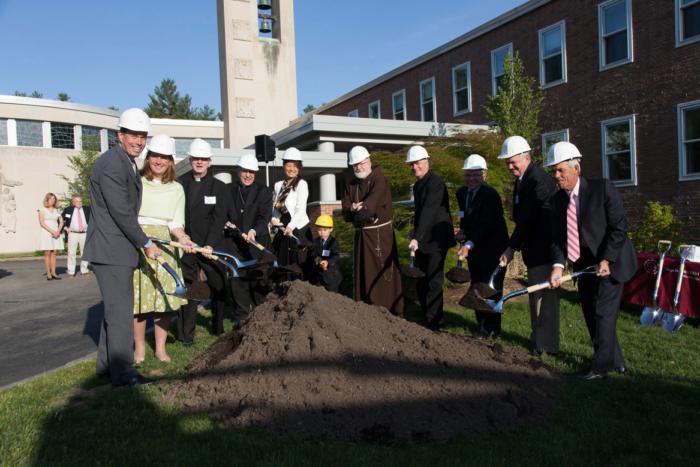 Doug and Joanie Kingsley, Msgr. Cornelius McRae, Bishop Peter Uglietto, Mia and Conor Gieselman, Cardinal O'Malley, Father William Palardy, James Mahoney, Jr, Thomas Reilly and Jack Shaughnessy, Jr. take part in the groundbreaking of a new learning center at Pope St. John XXIII National Seminary June 3. Pilot photo/courtesy John Gillooly/Pope St. John XXIII National Seminary
---
WESTON -- With a few silver shovels full of dirt on the evening of June 3, a bright new chapter in the story of Pope St. John XXIII National Seminary began.

"It was an exciting day for all of us. It is the first expansion of the seminary building since it was founded 50 years ago," said Bishop Peter J. Uglietto.

The construction of a new "Learning Center," to be finished by Christmas, will enable the seminary to enter the next 50 years in a position of strength. Almost 100 benefactors, friends, alumni, faculty and staff were present for the groundbreaking by Cardinal Seán P. O'Malley, seminary rector Father William Palardy, and other members of the board of trustees.

The seminary established by Cardinal Cushing in 1964, is unique. It was the first seminary in North America dedicated to the formation of men over the age of 30 answering the call to priesthood.

"I have been a bishop in four dioceses (St. Thomas in the U.S. Virgin Islands, Fall River, Palm Beach and Boston). In each diocese I have had priests from this seminary and they have all been extraordinary," said Cardinal O'Malley.

To date there are nearly 700 alumni, with over 75 ordained for the Archdiocese of Boston.

These men, ages 30 to 60-plus, come from many walks of life, with a multitude of experiences both personal and professional. They leave behind homes and careers and sometimes families for a very challenging transition. They were teachers, veterinarians, test pilots, social workers, engineers, federal judges, physicians, business owners and more.

The diversity of life experience shared by these seminarians enriches both the seminary community and their future ministries in the Church. Pope St. John XXIII Seminary makes that happen.

The new "Learning Center" will expand the seminary's library and add modern techology.

"I think it is going to be game changing -- to bring the latest and greatest of new technology and replace a library that dates back to 1964 can only have a profound impact," said seminary trustee John Corcoran.

Enrollment at the seminary remains high, and the new addition and more office space will allow dorm rooms currently used as faculty offices to be used to house more seminarians.

For more information on the seminary is available at www.psjs.edu.