Local
A special baptism at Regina Cleri
By Mark Labbe
Posted: 10/16/2015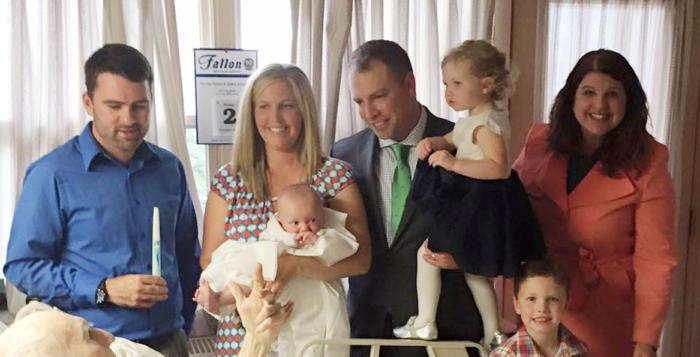 Family members gather in the room of Father John McCormick at Regina Cleri for the baptism of 3 month old Owen Rourke Oct. 3. Pilot photo/courtesy the Rourke family
---
On Oct. 3, senior priest Father John McCormick baptized his great-nephew Owen Rourke, pouring water over the 3-month-old's head and blessing him, just as he had done for all his other family members -- but this time was different.

Father McCormick administered the sacrament from his sick bed in Regina Cleri, the archdiocese's retirement residence for priests.

Jay Rourke, Owen's father and Father McCormick's nephew, explained to The Pilot that Father McCormick is suffering from cancer, and due to his declining health wasn't able to perform the baptism in a church or in even in Regina Cleri's chapel. But, Rourke explained, he was more concerned about having his uncle be the one to perform baptism than where it actually took place.

He said that his uncle had administered almost all of his families' sacraments, including the baptisms of his other two children.

"He's married everybody, he's baptized everybody, he's buried everybody -- he's performed all services for every member of the family since he was ordained," Rourke said.

But Rourke said his connection with his great-uncle goes beyond these spiritual moments, calling Father McCormick his "best friend."

Rourke said that he and his uncle both share a love for playing sports, and every year in August, around Rourke's birthday, they would have a "Day of Sports."

Together, the two would take the day to enjoy competing against each other in tennis, then golf, and then finally horseshoes. Whoever won the most games, Rourke said, would get bragging rights and the prize of being served by the loser at the family's holiday meals over the coming year.

"That was the ritual every year," he said.

These close connections made it all the more important for him to have Father McCormick baptize his youngest child. So, he, his wife and his children, as well as his aunt, mother, brother, and in-laws, all gathered into Father McCormick's room to watch him perform the baptism.

"It was incredibly moving to have my best friend, my uncle, my tennis partner, the person who I look up to... to have him rise to the occasion to be who we know he was," Rourke said.

Making the occasion even more special, the baptism was the first anyone is aware of being performed at Regina Cleri in the 51 year history of the facility, according to director Stephen Gust.

Following the baptism, the family went downstairs to have a small celebration and enjoy some pastries and coffee that the Regina Cleri staff members provided.

Rourke said the family was only planning on remaining for around 20 minutes, but ended up staying for an hour and a half when his uncle found the strength to join them, despite not having been out of bed for "many days."

Rourke said that he and his family "didn't want to leave."

Rourke expressed his gratitude to the staff at Regina Cleri, particularly to Sister Michelle Hernandez, PDDM, and Msgr. John McDonough for their help in organizing the event.

Rourke summed up the experience by saying what an amazing man Father McCormick is, explaining that he will never forget that baptism and calling Regina Cleri a "special, special, special place."