Books
Author explores virtues with deep dives into great books
By Graham Yearley
Posted: 3/15/2019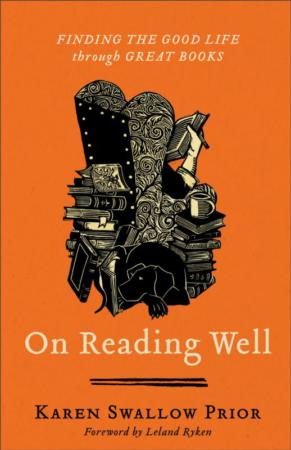 This is the cover of "On Reading Well: Finding the Good Life Through Great Books" by Karen Swallow Prior. The book is reviewed by Graham Yearley. (CNS)
---
"On Reading Well: Finding the Good Life Through Great Books" by Karen Swallow Prior. Brazos Press (Grand Rapids, Michigan, 2018). 267 pp., $19.99.

In our present political age when blaming and counter-blaming is all government seems able to do and public discussion is focused on finding fault, it is refreshing to have a new book that focuses on humanity's good behaviors.

In "On Reading Well," author Karen Swallow Prior uses pieces of fiction to show how a virtue is illuminated in a narrative. She uses "Persuasion" by Jane Austen to illustrate the virtue of patience, "Ethan Frome" for chastity and "A Tale of Two Cities" for justice. Sometimes a work of fiction such as "The Great Gatsby" illustrates a virtue by showing the moral opposite of a virtue; temperance is discussed by showing intemperance.

In "The Great Gatsby" there is a famous scene where Gatsby and Daisy have renewed their relationship and have retired to Gatsby's bedroom. Caught up in the extravagant materialism of the 1920s, Daisy achieves a form of orgasmic bliss in smelling the custom-made shirts that Gatsby is tossing out of his closet. The point of temperance is to help us to enjoy our pleasures wisely. Materialism distorts the pleasure of engagement with another person, and instead makes us focus on the omnipresent drive to add to our possessions.

Prior is careful to note in the preface that the role of fiction is not to instruct readers, but to entertain them. If we use fiction like a "how-to" manual, we are misusing fiction. By reading attentively, we can enter into the world an author is creating, and we see ourselves and our virtues and our shortcomings in the characters' actions and decisions.

Prior has interesting insights into the virtues. For example, she points out that kindness and being nice have become synonymous in common parlance, but kindness and niceness are not the same thing. One can be kind in pointing out another's faults to them, but it is not nice to do so, as truth telling may inflict pain with the instruction.

One of the pleasures of reading "On Reading Well" (and there are many) is reviewing some books you have already read and seeing them in a new light. But one finds out that Prior also can lead you through a book you haven't read and make it understandable. In some cases, you may be persuaded to take on the books you haven't read.

There is nothing schoolmarmish about Prior's investigation into the virtues and she acknowledges that, if reading a particular novel becomes agonizing to get through, we ought to drop that book and move on to one we can enjoy. As she says, "Life is short and books too plentiful" to sacrifice the simple but profound enjoyment of reading a good book.

- - -

Yearley lives in Baltimore and attends the Ecumenical Institute of St. Mary's Seminary and University there.