Obituary
Obituary: Father John J. Connelly, oldest priest of the archdiocese
By Father Robert M. O'Grady Pilot Staff
Posted: 7/16/2021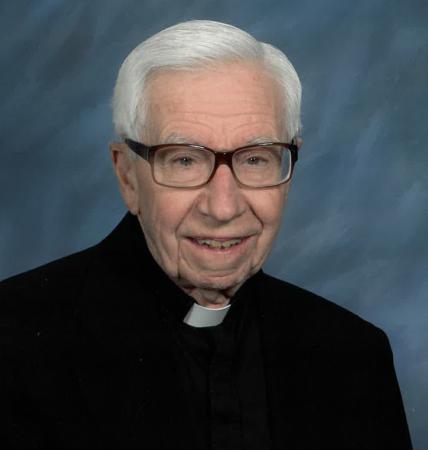 Father John J. Connelly Courtesy photo
---
He was the oldest priest of the archdiocese. He was the second in ordination seniority of Boston priests. He was the last Boston priest who was a veteran of military service in World War II. He was the last, of whom many priests would have saluted as the "greatest generation" of St. John Seminary faculty members (his late friends and fellow faculty members Father James O'Donohoe and Father Philip King would also be included). He was a consummate gentleman. He was a greatly loved pastor. He was a wise counselor. He was Father John J. Connelly -- who died at Massachusetts General Hospital on June 28, 2021.

Born in the Hub's Dorchester section on Oct. 23, 1922, he was the only son and the middle child of the late John and Helen (Murphy) Connelly. He had two siblings, his older sister, Mary, who died in 2012; and his younger sister, Helen, who died in 2018. Mary was well known by her brother's former students, as she was for many years the administrative assistant to a series of priests who were directors of the Pastoral Institute of St. John Seminary. She came to know the priests who attended retreats and other ongoing formation programs there.

The Connelly family was immersed in the life of St. Peter Parish, then one of the largest in population, though smallest in territory in the archdiocese and probably in New England. When John was born, Bishop Joseph G. Anderson, the second auxiliary bishop of the archdiocese, was the second pastor of the parish. By the time he was beginning school, the legendary Msgr. Richard Haberlin had succeeded and reigned over the parish for three decades. John's great affection for the Sisters of Charity of Halifax began at St. Peter and would continue until the end of his life.

A brilliant student, he attended the prestigious Boston Public Latin School, graduating in the Class of 1940. In a move not uncommon at the time, he entered Boston College as a member of the Class of 1944. With the outbreak of the Second World War, he left BC and enlisted in the United States Army, serving from 1943 to 1945. Bishop Arthur Kennedy, who was one of Father Connelly's students in the philosophy division of the seminary, said "I am not sure what John did in the Army, but I could never quite picture John carrying a gun."

When he returned home at the end of his military service, he went to St. John Seminary. He was ordained to the priesthood on May 3, 1950, at Holy Cross Cathedral by Archbishop Richard Cushing. He was the last surviving member of that ordination class.

His first assignment was as an assistant at St. John the Evangelist, Hopkinton. Way out where the Boston Marathon starts each Patriots Day.

From 1953 to 1956, he was in the Eternal City, pursuing a doctorate in theology at the Pontifical Gregorian University and residing at the graduate house for American student priests, the Casa Santa Maria.

He returned in the summer of 1955, continuing work on his dissertation and also as a temporary assistant, first at St. Michael, Avon, and then at St. Thomas Aquinas, Jamaica Plain -- the latter much closer to the research libraries of Boston College and St. John Seminary. He returned to Rome to complete the doctorate in 1956.

He was named an assistant at the then four-year-old parish of St. Bartholomew in Needham. Two years later, he moved back to Brighton, which would be his home for the next quarter century when he was assigned to the seminary faculty. He initially taught philosophy in the major seminary and then moved on to theology.

At the seminary, he was widely sought after as a spiritual director, serving for many seminarians as a confessor and also counselor.

He was a fine teacher. He could toss in a "bon mot" in the middle of a most serious presentation. If you weren't listening, you missed both. He was indeed serious about theology but it did not diminish his many human and priestly qualities. He could also be spotted on the seminary tennis courts with priestly competitors, classmates, and seminary contemporaries.

He was dubbed by fellow faculty and seminarians as the "sacred bone," as throughout his life he maintained a svelte figure. He was neat but not fastidious. The late Bishop Walter Edyvean, who was a fellow faculty member with John for years, wryly observed with not a small touch of envy, "John could put butter on butter and never gain an ounce; I just look at it ..."

He always wanted us to make sure we presented the faith clearly and not to let the theology we were studying befuddle the people. He put it this way: "How would you present this to Aunt Margaret?" We'd all give it a stab and inevitably John would listen and he would give a better response without making you feel yours hadn't at least been heard. I recall that in a parish in Dorchester, where I was assigned to be the celebrant of a Funeral Mass, the deceased's name was Margaret. About an hour before the Mass, the pastor informed me that "John Connelly would be concelebrating."

After the Mass in the sacristy he paid a great compliment "Bob, Margaret would have understood you perfectly."

On July 1, 1983, the late Humberto Cardinal Medeiros named Father Connelly as pastor of Sacred Heart Parish in Newton. This would have been one of the last appointments the cardinal would have made as he died quite unexpectedly the following September.

This appointment would be the longest one for John, lasting one month shy of three decades.

Not surprisingly, he grew on his parishioners; principally because he was exceedingly kind. He was present to and for the people. Although there were sometimes associates or parochial vicars, he was for the most part the only priest assigned to the parish, but the rectory was rarely short of resident priests, some students and some visiting faculty at nearby Boston College.

Among the memories over the years of parishioners were his "pastor's corner" entries in the parish bulletin. Most of the time, they were at least a full page of text. Reading them often reminded priests of his class presentations at the seminary. He was erudite and precise, but also showed a listening ear to developments in theology. He never stopped learning.

In later years, his two sisters, Mary and Helen, were residents at Elizabeth Seton Residence in nearby Wellesley. Your scribe remembers running into him as he made almost daily visits to both, wending his way from Newton Centre to Wellesley. With his customary generosity, he also was a regular celebrant of a daily Mass at Mount St. Vincent Chapel. One day, I mixed up the schedule and arrived for Mass to find John all vested. He was already to cede his place to me, I casually noted the schedule on the vesting case and indeed, and not surprisingly, he was correct.

He was generous, even exaggerating his praise. One of the Sisters of Charity told me that he had said of me, "He was one of my best students." To which I said, "Sister are you sure? I think I was a good student but not one of his 'best.'"

Following his retirement from Sacred Heart in June 2013 at the venerable age of 90 seemingly undiminished in body or mind, he moved to live in residence as a senior priest at St. John the Evangelist, Wellesley. He celebrated Sunday and daily Masses on a regular basis, endearing himself to the parishioners as he had done to the seminarians at Brighton and the parishioners at Newton. In addition, he continued to celebrate Mass at Mount St. Vincent Chapel, where his sister Helen lived until her death in 2018; Mary had died there in 2012.

Up until just a few weeks before his death, on June 28, 2021, he was celebrating Mass, though with assistance from others at St. John.

Father Connelly's Funeral Mass was celebrated at a nearly full Sacred Heart, Newton, on July 3, 2021. North Regional Bishop Mark O'Connell was the principal celebrant and was joined by some 42 concelebrants, including Auxiliary Bishops Emeriti John Dooher and Arthur Kennedy; Msgr. Kevin O'Leary, rector of the Metropolitan Cathedral of the Holy Cross; Father Daniel Riley, the present pastor of Sacred Heart and Our Lady Help of Christians, both in Newton; Father James Laughlin, pastor of St. John the Evangelist and St. Paul, both in Wellesley; Father Bryan Hehir, who served as homilist; Father Frank Silva, pastor of St. Irene, Carlisle, and Holy Family, Concord; Msgr. George Carlson, senior priest of the archdiocese; Father Thomas Buckley, senior priest at Regina Cleri and former fellow seminary faculty member; Father Stephen E. Salocks, rector, St. John Seminary, Brighton; and Father Robert Kickham, secretary of His Eminence, the Cardinal.

Following the Funeral Mass, Father Connelly was buried in Brookline's Holyhood Cemetery with his parents and sisters.