Obituary
Obituary: Father Edward L. Gallagher, former Navy chaplain and pastor in Carver
By Father Robert M. O'Grady Pilot Staff
Posted: 7/16/2021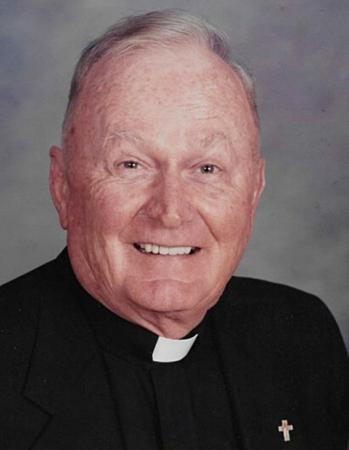 Father Edward L. Gallagher Courtesy photo
---
Taunton native and Boston priest since his 1953 ordination, Father Edward L. Gallagher died in San Diego, Calif., on June 17, 2021. Born in the Commonwealth's Silver City on Sept. 12, 1927, Father Gallagher was the last surviving of the five children of the late Edward and Margaret (Judge) Gallagher. The family moved in 1932 to Newton but closer to Waltham and so he attended St. Charles Borromeo Grammar School in the Watch City. He was a 1945 alumnus of Boston College High School and, after a short stint at the College of the Holy Cross in Worcester, entered St. John Seminary.

Archbishop Richard J. Cushing ordained him to the priesthood at Holy Cross Cathedral on Sept. 29, 1953. Of the "second Class of 1953" (because the seminary was overcrowded), only one survives: Father William T. Pearsall.

His first assignment was as an assistant at St. Catherine of Siena Parish in the Hub's Charlestown section, serving until 1960. The urban character and the dense population of the area was magnified by the Veterans' Housing, one of many that sprung up following the return of many military service personnel following the Second World War.

His next assignment was a brief one, only 18 months to St. Camillus in Arlington. This parish, only a decade old, was also experiencing growth, as many of the suburbs mushroomed again following the war. The new, spacious church was being built at the time. In May 1961, he was released from the archdiocese for service in the chaplain's corps of the United States Navy.

During his two decades of priestly ministry on land and sea, he was twice assigned to the Vietnam conflict, once with the Marines and another time aboard ship. He was also in Japan and in the expansive naval installation at San Diego, where he developed a love for the city on the other coast -- dubbed by some as America's Finest.

On his return to the archdiocese in 1981, he was briefly an associate at St. Patrick, Natick, and then, in 1983, he moved to St. Jerome, Weymouth, first as administrator and then, in 1985, named pastor of the parish by Cardinal Bernard Law. In 1991, he moved next door to St. Clare, Braintree, where he was parochial vicar for a year before being named pastor of Our Lady of Lourdes in Carver.

In Carver, he presided over a small but growing parish and saw to the purchase of land for probable expansion of parish facilities.

In 1997, Cardinal Law granted him senior priest retirement status and he moved to his favorite spot in the United States: San Diego. Although he made regular visits to the east coast, he relished being a seasoned tour guide for visitors to the west coast.

In retirement, he assisted regularly in parishes of the San Diego Diocese and also as a supply chaplain at Naval and Marine installations in the San Diego area.

In the past few months, he has been living at Nazareth House in San Diego, where he died on June 17, 2021.

His Funeral Mass was celebrated at St. Gregory the Great, Scripps Ranch, Calif. on June 25, 2021. Committal services were private. There is to be a Memorial Mass at Our Lady of Lourdes, Carver, on Aug. 16, 2021.