Culture
It seems like every one of the 14 corporal and spiritual works of mercy, from welcoming the stranger to comforting the sorrowful, were daily practices at Dolly's House.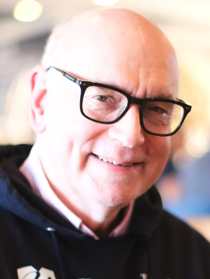 A few months ago, the mother of one of my best friends died. Her name is Ruthanne "Dolly" Donahue. I knew her, because I knew her son Jim from the time he arrived at MIT as a freshman in 1987 until he got a Ph.D. in Chemistry from Harvard in the 1990s. In fact, I was best man at Jim's wedding to his wife Kelly a while back. Dolly's House in Osceola, Indiana, where Jim grew up, was always a haven and shelter for people who needed a home and a family. In this Year of Mercy, we do well to remember and to celebrate those like Dolly for whom the works of mercy are a lifestyle and a continual calling generously responded to.

Notre Dame Magazine, the alumni magazine for the University of Notre Dame, just ran a piece on "Dolly's House" in its Summer 2016 issue. The piece by Ken Bradford is well worth a full read. Here's the link: magazine.nd.edu/news/67847-dollys-house/ The reason for the Notre Dame connection is that faculty and students from the University would volunteer to help out at Dolly's House over the past 25 years.

The fact is that Dolly, while always welcoming to people in need, did not seek attention for herself. There was no public relations person at her house nor a dedicated fundraiser. She virtually never gave press interviews. She simply took in and cared for whoever needed shelter. It seems like every one of the 14 corporal and spiritual works of mercy, from welcoming the stranger to comforting the sorrowful, were daily practices at Dolly's House. And, according to Matthew, chapter 25, when Dolly died last April at age 72 from terminal brain cancer, she doubtless heard Jesus say, "Come, blessed of my Father and enter the inheritance prepared for you from the foundation of the world. For I was hungry and you fed me; I was thirsty and you gave me to drink... . For as long as you did it to one of these least of my brothers and sisters, you did it to me."

Neighbors got alarmed when an elderly woman from the House with dementia got lost in the neighborhood. State agencies investigated, and not only cleared Dolly of any charges of wrongdoing, but ended up praising her for her tireless and generous work. In fact, she was well known to the local police and social service agencies, because she was always willing to take the toughest clients, people that no one else would take.

As Ken Bradford wrote, "most facilities have limits. They have criteria on income, age or gender. They may require sobriety. They ask you to fill out forms, find your solutions and eventually move on. When it comes to checking those boxes, some people just don't fit. And what do you do with the severely handicapped baby whose overwhelmed parents just want to cut and run?

"For the past 40-some years, Dolly's House provided the answer. She flung open her doors to hundreds of people of all ages with all kinds of needs -- from those abandoned babies to abused mothers to alcoholics and addicts and Alzheimer's patients. She welcomed all of these as children of God, accepting them as they are and helping them live better lives."

Before she died of terminal brain cancer on April 20, she gave her first press interview. She said she expected her mission would continue. "It's not as complicated as people think it is," she whispered to the reporter. "It's just doing what's in front of you."

When I was a teenager some 50 years ago, the biggest musical on Broadway, and my personal favorite, was "Hello, Dolly!" starring Carol Channing as Dolly Gallagher Levi, a charismatic matchmaker who famously said, "Money is like manure. You've gotta spread it around to make little things grow." Carol Channing, the ultimate Broadway diva, is still alive and in her 90s now. I dread the eventual news of her death.

Well, another and greater Dolly, not a fictional one, is gone from us in the person of Ruthanne Donahue, who spread love around so liberally. I feel quite confident that she's in heaven now, and though she'll obviously be missed, it's nice to have her there where she belongs. Goodbye, Dolly!

- Dwight G. Duncan is professor at UMass School of Law Dartmouth. He holds degrees in both civil and canon law.
Recent articles in the Culture & Events section