Local
Cardinal reflects on Pope Francis' first year

Cardinal Seán P. O'Malley speaks in the rectory of the Cathedral of the Holy Cross March 4. Pilot photo/Gregory L. Tracy
Local
From Cardinal Seán's blog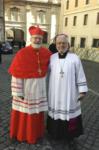 This week, the announcement was made that the Holy Father is establishing a new dicastery for finance in the Vatican. This department will oversee all the finances and human resources of the Vatican and will unify all the financial departments in the Vatican under one structure, something like the Treasury Department in the United States. It will be a way to guarantee greater transparency and efficiency as well as allow the Holy Father to ensure that the resources of the Church are used to the best possible advantage in our service to the poor and our mission of evangelization. Heading this new group up is one of the cardinals on the Holy Father's Council of Cardinals, Cardinal George Pell of Sydney. I told the Holy Father that I think that he needed a rugby player for this task, and apparently he agreed!

Nation
Boomers can have a good Lent even when not needing to fast
By Mark Pattison
WASHINGTON (CNS) -- The Catholic rules for fasting during Lent no longer apply when you turn 59. This applies not only to senior citizens, but a growing number of baby boomers as well. And there's still nearly a decade's worth of baby boomers closing in on age 59.

World
Pope, in interview, suggests church could tolerate some civil unions
By Francis X. Rocca
VATICAN CITY (CNS) -- Pope Francis suggested the Catholic Church could tolerate some types of nonmarital civil unions as a practical measure to guarantee property rights and health care. He also said the church would not change is teaching against artificial birth control but should take care to apply it with "much mercy."

World
Top 10 things most people don't know about Pope Francis
By Carol Glatz
VATICAN CITY (CNS) -- When Cardinal Jean-Louis Tauran walked onto the central balcony of St. Peter's Basilica, telling the crowds in Latin: "I announce to you a great joy. We have a pope!" not many people recognized the name of then-Cardinal Jorge Bergoglio of Buenos Aires, Argentina.

World
Pope Francis' constant refrain: 'Go forth,' evangelize, help the poor
By Cindy Wooden
VATICAN CITY (CNS) -- Pope Francis' most frequent advice and exhortation to Catholics -- from laypeople in parishes to bishops and cardinals -- is "Go forth."

World
Lessons in style: Pope's gestures, choices are teaching moments
By Cindy Wooden
VATICAN CITY (CNS) -- From the moment Pope Francis, dressed simply in a white cassock, stepped out on the balcony of St. Peter's Basilica for the first time and bowed, he signaled his pontificate would bring some style differences to the papacy.

World
Pope Francis' top 10 most quotable quotes of the year
By Carol Glatz
VATICAN CITY (CNS) -- In his formal documents, many speeches and unscripted morning homilies the past year, Pope Francis has given the church a bounty of memorable sound bites.

World
Remember the joy of your vocation, Vatican officials tell religious
By Cindy Wooden
VATICAN CITY (CNS) -- Preparing for the Year for Consecrated Life, members of religious orders, secular institutes and consecrated virgins are asked to spend a considerable amount of time remembering the joy they felt when they first realized God was calling them.

World
Vatican releases pope's Lenten schedule, including penitential service
By Cindy Wooden
VATICAN CITY (CNS) -- Pope Francis' calendar of liturgical services for March and April -- including Holy Week and Easter -- includes the addition of a Lenten "penitential service," but does not say where he will celebrate the Holy Thursday Mass of the Lord's Supper.

Opinion
What to give up for Lent: Some (possibly novel) ideas
Michael Pakaluk
I propose some possibly unordinary ideas of mortifications for Lent, of the sort that may not have occurred to you, but which are likely more difficult, and cut closer to places where you need spiritual improvement, than some other alternatives.
Opinion
A last Lent
Jaymie Stuart Wolfe

Here we are, at Lent once again. Lent: that oh-so-Catholic time of year for practicing the art of sacrifice; not to perfect it, but to be perfected by it. For 40 days we are encouraged to lay aside every encumbrance to our faith, and take up the ancient disciplines that mark the true disciples of Christ. And for 40 days, we suffer the stuff we're made of -- and not made of.
Opinion
'Disa and data'
Clark Booth
Herewith we clear the notebook of idle, stray, and perhaps fairly pointless "disa and data" with apologies to the late, great, John ''Bud'' Gillooly of that long gone but still dearly missed tabloid, The Record. It was good old Bud who coined the term and perfected the shtick.
This week's front page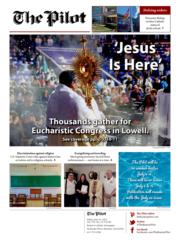 See enlarged version