World
Pope, cardinal council begin work on reorganizing Roman Curia

Pope Francis's international advisory panel on church governance, unofficially dubbed the "Group of Eight" or "G-8." The eight are from top, left to right: Italian Cardinal Giuseppe Bertello, Chilean Cardinal Francisco Javier Errazuriz Ossa, Indian Cardinal Oswald Gracias, German Cardinal Reinhard Marx, Congolese Cardinal Laurent Monsengwo Pasinya, U.S. Cardinal Sean P. O'Malley, Australian Cardinal George Pell and Honduran Cardinal Oscar Rodriguez Maradiaga. (CNS photos)
Local
From Cardinal Seán's blog
We were all very enthused to see the publication this week (11/26) of the Holy Father's Apostolic Exhortation ''Evangelii Gaudium."

...Many of the themes are ones that he has often spoken about in his conferences, audiences and homilies. Certainly, we see his great desire to make the Church one that is compassionate, that is a community of faith overcoming the globalization of indifference, one in which people are concerned about the homeless person who dies because they are exposed to the elements, and where the economy must be at the service of humanity and not an exercise in greed and selfishness. The Holy Father, of course coming from Latin America and having seen in many countries great poverty and suffering, is very strong in his analysis.

Nation
USCCB evangelization chair, others laud pope's apostolic exhortation
By Catholic News Service
WASHINGTON (CNS) -- Pope Francis' apostolic exhortation "Evangelii Gaudium" ("The Joy of the Gospel") has prompted plenty of commentary, and not exclusively from Catholic circles.

Nation
Lawsuit says USCCB health care directives led to woman's negligent care
By Catholic News Service
DETROIT (CNS) -- Lawyers for a woman who claims she suffered a miscarriage because of the way a Michigan Catholic hospital handled her case have filed suit on her behalf against the U.S. Conference of Catholic Bishops over its "Ethical and Religious Directives for Catholic Health Care."

World
Pope meet with Israel's Netanyahu, discusses Middle East peace
By Francis X. Rocca
VATICAN CITY (CNS) -- Pope Francis met with Prime Minister Benjamin Netanyahu of Israel Dec. 2, and discussed prospects for peace in the Middle East and the pope's still-unscheduled trip to the Holy Land.

World
The journey toward Christmas is reflected in Ukrainian icons
By Ramon Gonzalez
EDMONTON, Alberta (CNS) -- Catholics are called to prepare spiritually for Christmas by looking into the life and journey of Christ, said the bishop of the Ukrainian Catholic Eparchy of Edmonton.

World
Pope expected to proclaim sainthood of Jesuit companion of St. Ignatius
By Cindy Wooden
VATICAN CITY (CNS) -- Pope Francis is expected to issue a decree declaring one of his favorite Jesuits, Blessed Peter Faber, a saint.

The decree is likely to take the form of what the Vatican terms an "equivalent canonization," in which the pope inserts the name of the new saint in the universal calendar of saints without verifying a miracle performed through his intercession and without holding a formal canonization ceremony.

Opinion
Jack Shaughnessy Sr., hall of famer, cheerful giver
Scot Landry
Sports fans love to debate whether a particular professional athlete's accomplishments over a long period of time are worthy of the particular sport's hall of fame. Within the Catholic Church, I like to think that we have our "eternal hall of fame" made up of the saints in heaven. At a more local level, each diocese and each parish has been made up of "hall of famers" that have defined great role models and leaders from each community of faithful disciples.
Opinion
Why complicate something so simple?
Michael Pakaluk
Apostolic exhortations tend to be quickly forgotten. When was the last time you perused "Ecclesia in Africa" (1995) or "Pastores gregis" (2003)? Like great books, they seem to remain part of the "canon" of what faithful Catholics read, only because they both are highly relevant and greatly beloved. Probably only two of the 15 exhortations of John Paul II have this status. For guidance on Catholic family life, nothing is better than "Familiaris cosortio," cherished as much now as when it was written in 1981; and "Christifidelis laici" (1988) remains one of the best explanations of the lay apostolate.
Opinion
The Christmas spirit
Dale O'Leary
During the four weeks before Christmas we celebrate Advent, the time of preparation for the coming of Christ. While the Advent season in the Church is a quiet period of prayer and reflection, in the secular world the month before Christmas is a busy, noisy time. Nonstop advertising encourages us to buy, buy, buy and not just for others. There is a subtle message that we can also buy for ourselves. Shops sprout Christmas decorations right after they remove those celebrating Halloween. Radio stations play nonstop Christmas music. Every TV series has a special Christmas episode and cable television runs back-to-back Christmas themed movies. While the Christmas music is a combination of secular tunes and classic Christmas carols, the made for TV movies almost never mention the reason for the season. However, this does not mean that they are ignoring the spirit of Christmas.
Opinion
Pastoral Planning notes: It's not rocket science
Father Paul Soper
The change in velocity (delta-v) of a rocket is equal to the exhaust velocity of the propellant times the natural logarithm of the total initial mass of the rocket divided by its final mass after the propellant has been expelled. This is called the ideal rocket equation. This is rocket science. I like rocket science. And parish based evangelization is not rocket science.
Opinion
From earth to heaven... or Cooperstown
Clark Booth
Halls of Fame are a dime a dozen. Every high school has one. So, increasingly, do middle schools. Are grammar schools next? Every profession maintains one, save perhaps for the world's oldest. Should you be any such proud honoree you are free to exult even if the distinction -- plus a buck -- will no longer buy you even a good cup of coffee.
This week's front page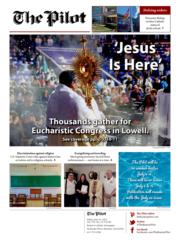 See enlarged version