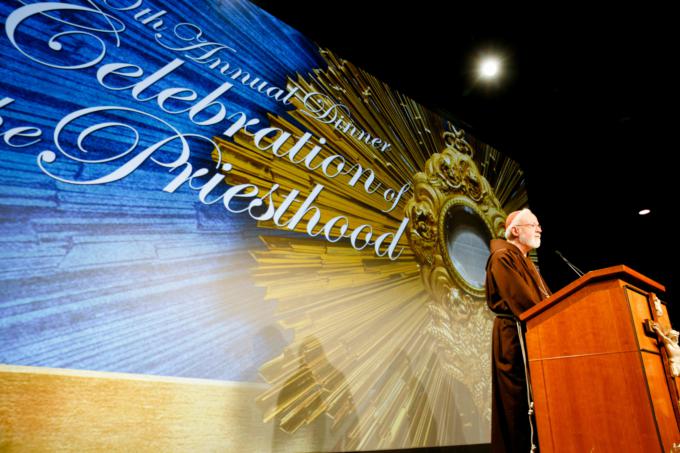 We commit our Church to fully cooperate with civil authorities and always to act with the utmost transparency in a Church where everyone is held accountable, whether that person be a pastor, a teacher, a coach, a catechist, or a bishop or a cardinal.
Following are the edited prepared remarks of Cardinal Seán P. O'Malley's address to 1,700 guests at the Celebration of the Priesthood Dinner in Boston, Sept. 18.

Last Saturday I gathered with hundreds of Catholics who are residents or former residents of South Boston to commemorate the 200th anniversary of the death of Father Francis Matignon, the French priest, who, along with Bishop Cheverus, founded the Catholic Church in this part of the world. When Father Matignon died 200 years ago a cemetery was established in South Boston and the Chapel of St. Augustine was built there. There are about 1000 people buried there, mostly Irish immigrants, including the first Irish police officer of Boston. It's the same cemetery where Billy Bulger says he wants to be his final resting place, so as to remain politically active after death.

Father Matignon and Father Cheverus fled the persecution of the French Revolution and came to New England to continue their ministry, when there were about 2,000 Catholics in the region. Tonight, we have almost that many people here at this banquet. There are now close to two million Catholics just in the Archdiocese of Boston. Despite the many obstacles and suffering that those first generations of Catholics had to endure, their love for Christ and His Church established a solid foundation for our community of faith.

In our 200-year history as an archdiocese, we have been blessed with so many great priests whose generosity and fidelity have enriched our lives and our community. Too often that great legacy of holy and faithful priests has been eclipsed by the horrendous crimes committed by others during our lifetimes and covered up by Church leadership. In Boston we experienced the painful revelations of what has come to be called the clergy sex abuse crisis. It was the courage of the victims of sexual abuse who came forward, the work of the free press in our society and the efforts of many committed Catholics to redress the crimes and injustices of the past that put the Church here on a path towards reconciliation and healing. At this point in our history, it is very clear that safeguarding our young people and those who are vulnerable must be the number one priority of our community. Evangelization, the works of mercy and our educational and health ministries can succeed only if we can assure the people we serve that we are doing everything possible to create a safe atmosphere for their children.

The recent revelations of the history of sexual abuse in Pennsylvania between 1940 and 2003, underscore the urgent need for a clear policy of accountability for leadership in the Church and the participation of the laity in this process to ensure complete transparency. Having recently been in Rome for a series of meetings including with the Pontifical Commission for the Protection of Children, I want to reassure you that Pope Francis is committed to addressing the abuse crisis. The Holy Father is very much aware of the seriousness of the situation we are facing.

We are all grateful for those in the archdiocese who have been so deeply involved in outreach to survivors and a careful implementation of safeguarding policies in our parishes, schools and agencies, but the present crisis calls us to work tirelessly with vigilance, so our tragic history will never be repeated. We commit our Church in Boston to work for healing of the survivors and their families, to adhere to zero tolerance so that no member of the clergy who would abuse a child, youth or vulnerable person be allowed to continue in any ministry. We commit our Church to fully cooperate with civil authorities and always to act with the utmost transparency in a Church where everyone is held accountable, whether that person be a pastor, a teacher, a coach, a catechist, or a bishop or a cardinal. We have an obligation to survivors and to you, our Catholic family, to be true and faithful to accountability. And we owe it to you, our priests who have dedicated your lives in service to Christ, to support you in your ministry during these challenging days.



In the midst of these significant challenges, I am overwhelmingly grateful to all of you, some 1,700 parishioners and friends of the archdiocese, including dear friends of other denominations and faiths, who have gathered here tonight to generously and indeed bravely support our priests, your priests. By your presence you are thanking those who daily and weekly are present in your lives, for the major events of birth, marriage and the passing of a loved one and also to support you in the moments of joy and suffering which are part of all of our lives. To echo the words of our Lord in prayer to His heavenly Fatherfather, they know you and you know them, your priests. This evening provides all of us the opportunity to acknowledge and give thanks for that relationship of mutual support and service.



On this occasion, as Archbishop of Boston I wish to speak to our priests. As you all know, the priesthood today is not what Bing Crosby portrayed in "Going My Way" with the corniest line ever from Hollywood, "dial O for O'Malley."". Your lives are not a romantic narrative but the daily hard work of witness to our faith and your commitment to a calling and a way of life which is often very difficult and very difficult for many in our society to understand. During your ministry you have had to bear the stigma of priests and bishops who have failed you, often in the most disgraceful and appalling ways. Tonight, with immense gratitude for your lives and your service, I join all those surrounding you here in paying tribute to your vocation, your ministry and your witness to the presence of the Lord in our midst and I renew my pledge to be your support and your companion on this journey.



Finally, allow me to thank those whose lives and service have made this dinner possible. John and Cathy White have again blessed us for their extraordinary leadership in chairing this event for a second year. Their dedication to our priests is truly inspiring. I am also grateful to the dinner committee and all those in development at the archdiocese whose efforts ensured the success of this event. To all of you, my thanks, and may God bless you all.
Cardinal Seán P. O'Malley, OFM Cap. Is Archbishop of Boston
Recent articles in the Spirituality section