Faith
St. Therese of Lisieux (The Little Flower) offered, I think, some helpful advice. She said, "I also have many (distractions). But as soon as I am aware of them, I pray for those people the thought of whom is diverting my attention; and in this way, they reap benefit from my distractions."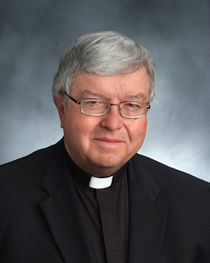 Q. I am a layman who likes to pray the Divine Office. When I am praying this (or reading other prayers), if I am distracted, should I go back and reread those sections? (Worcester, Massachusetts)

A. First, it pleases me that you have found the Divine Office a helpful resource for prayer, and I wish that more laypeople were aware of this treasure. The office consists primarily of psalms but also includes other biblical texts as well as selections from Church fathers and other spiritual masters. The central parts to the office -- morning prayer and evening prayer -- can each be recited in five to 10 minutes.

Next, you needn't worry that you sometimes find yourself distracted while praying. The Catechism of the Catholic Church recognizes the universality of that problem, calling distraction "the habitual difficulty in prayer" (No. 2729).

Many of the saints have written about the struggle to concentrate while praying. St. Bernard, the 12th-century French abbot, tells of once walking with a farmer who noticed that St. Bernard was keeping his eyes cast downward and asked him why.

St. Bernard replied that he was praying and didn't want to be distracted by the sights of the countryside. The farmer boasted that he himself was never distracted while praying, so Bernard made a bargain with him.

The saint offered to give the farmer his mule if he could say the Our Father aloud in its entirety without a single distraction. The farmer began to recite with confidence; but midway through the prayer, he paused and said to Bernard, "Does that include the saddle and bridle as well?"

St. Therese of Lisieux (The Little Flower) offered, I think, some helpful advice. She said, "I also have many (distractions). But as soon as I am aware of them, I pray for those people the thought of whom is diverting my attention; and in this way, they reap benefit from my distractions."

It is helpful, of course, to find a quiet place to pray, though that is not always possible. (Remember that Jesus said in Matthew 6:6, "When you pray, go to your inner room, close the door, and pray to your Father in secret.")

Now, to your specific question. No, when you are distracted, you needn't go back and repeat that particular prayer. In fact, I would advise against it. I have known scrupulous people who would repeat prayers endlessly until they "got them right." Instead, when you are distracted, just pause and then move forward with renewed focus.

Q. In one of your recent columns -- about Our Blessed Mother's Assumption -- you wrote "Some theologians feel that, since death is a consequence of sin, Mary would not have had to die." I have never thought of sin as causing death. Can you explain this a little more? (Montvale, Virginia)

A. At the dawn of creation, the very first human beings were made to live forever and that was the divine intention and desire. The sin of Adam and Eve, however, changed that, and the whole of human history was altered by the fault committed by our first parents.

This is reflected in the teaching of the Catechism of the Catholic Church: Because of original sin, harmony with nature is broken and "creation is now subject 'to its bondage to decay.' ... The consequence explicitly foretold for this disobedience will come true: Man will 'return to the ground,' for out of it he was taken. Death makes its entrance into human history" (No. 400).

- Father Kenneth Doyle is a columnist for Catholic News Service
Recent articles in the Faith & Family section