Pope chooses seminary rectors to be Boston bishops
---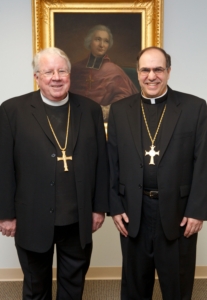 Bishops-elect Arthur L. Kennedy and Peter J. Uglietto are pictured in the cardinal's office June 30. In the painitng behind them is Bishop Jean Louis Lefebvre de Cheverus, the first bishop of Boston. Pilot photo/Gregory L. Tracy
Help us expand our reach! Please share this article
BRAINTREE -- Rectors of two seminaries within the Archdiocese of Boston have been chosen by Pope Benedict to become auxiliary bishops of the archdiocese -- a move that is regarded as significant by many in the archdiocese.

"The fact that we have two new bishops who are coming out of the world of priestly formation I see as a very special help as we try to deepen the ongoing formation of all our clergy," said Cardinal Seán P. O'Malley at a June 30 press conference announcing the new bishops.

"One of the things I've been talking about is the need for us to continue our theological studies and have priestly fraternity based pretty much on a shared life of prayer and spirituality," the cardinal continued.

At the press conference held at the archdiocese's Pastoral Center, Cardinal O'Malley announced that Fathers Arthur Kennedy and Peter Uglietto have been raised to the rank of bishop by the pope. Bishops-elect Kennedy and Uglietto will become the 34th and 35th auxiliary bishops of the archdiocese at their ordinations Sept. 14 at the Cathedral of the Holy Cross.

At the same press conference, Cardinal O'Malley announced that the Holy Father has accepted the resignation of Bishop Emilio Allue, 75, who retired due to age reasons.

Bishop-elect Kennedy, 68, will remain as rector of St. John's Seminary in Brighton.

Bishop-elect Uglietto, 58, will move from rector of Blessed John XXIII National Seminary to bishop of the archdiocese's north region, effective following his ordination. He will be replaced at Blessed John by Father William Palardy, currently the academic dean of Blessed John.

Bishop-elect Kennedy announced that his Episcopal motto will be "Ut congnascant Te," Latin for "That they may know Thee," which was also the motto of Cardinal Richard Cushing. Bishop-elect Kennedy said he took his motto to honor the memory of Cardinal Cushing, who was archbishop when he was a seminarian at St. John's Seminary in the early 1960's.

Bishop-elect Uglietto, meanwhile, said he has not selected his motto yet, although he is weighing some options.

In their remarks at the press conference, both bishops-elect discussed the importance of preparing priests for service to the Church.

Bishop-elect Kennedy has been rector at St. John's Seminary for the last three years. He said that next year, the seminary is slated to enroll 80 students.

"One of the things I find is that at St. John's we have reached a trip wire by which I mean that you have the kinds of men who are mediators and inviters to others like themselves to become engaged in questions about priestly life," Bishop-elect Kennedy said.

He also discussed the formation of the seminary's St. Botolph Club where seminarians invite friends who may be interested in the priesthood for dinner and conversation about priestly life.

Since 2005 Bishop-elect Uglietto has served as rector at Blessed John, a second-career seminary for older candidates. He also spoke to the importance of vocations in the Church.

"There have been times, no greater time in the history of this country and the Church, for the need for good priests," he said. "That's what seminary is about -- helping provide good priests for the challenges and needs of God's people today."

Clergy from the archdiocese who attended the press conference welcomed the naming of two rectors to auxiliary bishop.

Bishop John Dooher, bishop of the archdiocese's southern region since he was ordained to the episcopate in