Boston hosts gathering of Catholic new media
---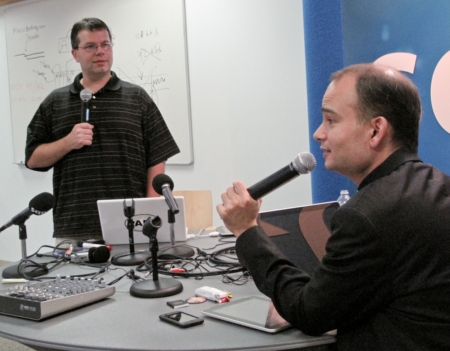 Father Roderick Vonhogen, CEO of Star Quest Production Network (right), and Cliff Ravenscraft of PocastAnswerman.com discuss techniques for podcasting at the Catholic New Media Celebration Aug. 7. Pilot photo/ Jim Lockwood
Help us expand our reach! Please share this article
BRAINTREE -- About 200 Catholic bloggers, podcasters and other producers of digital media from across the United States and around the world gathered at the Pastoral Center on Aug. 7 for the 2010 Catholic New Medial Celebration organized by the Star Quest Production Network or SQPN.

For many, it was the first time meeting face-to-face with fellow communicators they have come to know through the Internet.

"The idea is to encourage and inspire people who want to serve the Church through the new media, and also to network and share experiences. Most importantly, to gather the community in real life that has been created online," said Domenico Bettinelli, new media and special initiatives coordinator for the archdiocese's recently-formed Catholic media secretariat.

The all-day conference included keynote addresses by Father Robert Reed, director of CatholicTV and Lino Rulli, host of "The Catholic Guy" program, which airs on Sirius Satellite Radio.

A special children's track offered school-aged children a chance to create their own podcast. The youth learned production and delivery techniques through making a podcast broaching topics of Catholic catechesis such as the rosary and the Mass.

In keeping with the nature of the conference, the day's events were live-streamed on the Internet throughout the day and photos were being sent live to Flickr, a photo sharing website. Meanwhile, participants themselves were uploading photos, writing updates and documenting their experiences on their blogs and social networking sites such as Twitter.

Father Reed kicked off the conference with the first keynote.

In his remarks, he reminded attendees that they need to present content "in a way that is appealing to the senses, mind and heart," in a dignified manner and faithful to the Magisterium. He also reminded participants that they too, like their audiences, need to be nourished by worship, Scripture and a deepened knowledge of the faith.

In his afternoon keynote, Rulli said that in order to produce high-quality content, participants should be passionate in their work and direct it towards their pre-identified target audience.

"Make it new. Make it fresh. Make it different. Make it quality," he said.

During the day, participants attended two breakout sessions -- one on blogging, the other on podcasting.

The blogging session included a morning presentation by Thomas Peters, blogger for American Papist at www.CatholicVoteAction.org and an afternoon panel discussion featuring Peters and other Catholic bloggers.

Peters' morning session highlighted the importance of blogs in promoting Catholic activism, noting their exponential reach via social networking sites like Facebook.

He said that Catholics should be united in faith and morality in order to be effective.

Christopher Castagnoli, a catechist at New York's St. Patrick's Cathedral, runs a prayer website titled Our Catholic Prayers (www.OurCatholicPrayers.com) that he said gets 1,500 visits per day.

"What I'm amazed at is you can hit the send button and it goes all over the world," he said. "We take it for granted. During the Ascension, Jesus had to send people out."

"We just have to go out there and let God do the work," Castagnoli added. "God is interactive."

The podcasting sessions were given by Father Roderick Vonhogen, CEO of SQPN, and Cliff Ravenscraft, who started a podcast that discussed the popular TV show "Lost" from a Christian perspective that he said gained 14,000 fans in three weeks and others that discussed parenting from a Catholic point of view.

During the first session, they suggested that podcasts should be informational, instructional, involve the audience and inspire them. They also said podcasts should be entertaining. The second session demonstrated the technology necessary for podcasting.

Cardinal O'Malley closed the conference sharing insights on how old and new media has helped his 40-year ministry as a priest. He said he started a Spanish-language newspaper in Washington, D.C. and launched a paper when he was named bishop of the Virgin Islands in the 1980's. Most recently, he discussed his own experience starting his blog and mentioned other breakthroughs the Archdiocese of Boston has made in the new media field.

"I know it's a lot of hard work and sometimes it's a lot of frustration, but we have the best message -- the Gospel," Cardinal O'Malley said. "If we don't share that, shame on us."

Father Jay Finelli, who covered the conference for the 200th episode of his podcast, iPadre, said new media such as podcasts and blogs can help wide audiences discover the truths of the Catholic Church.

"We have an opportunity to stir up the world to look at us like they never have before -- in a positive light," said Father Finelli, also pastor of Holy Ghost Parish in Tiverton, R.I.

"They can see the true reality of who we are as Catholics. We're not all bad. Although some have failed we have a good message -- a message of hope," he added.

Scott Maentz, a Catholic in the Diocese of Knoxville, Tenn., and host of ParishGeeks.com, a website that helps parishes establish and enhance their own web presence, agreed on the importance of sharing the faith online.

"So often we're afraid of what other people think of us or what they might say," said Maentz. "The audience is so wide."

"This technology is an incredible way to share our faith with the world," Maentz added.