Boston priest named to succeed bishop-elect at Blessed John seminary
---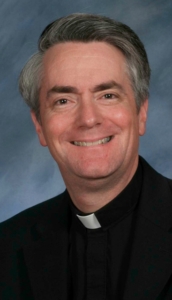 Father William B. Palardy Pilot photo
Help us expand our reach! Please share this article
Ensuring a smooth transition from one rector to another, Cardinal Seán P. O'Malley has announced the appointment of the Very Rev. William B. Palardy as the eighth rector of Blessed John XXIII National Seminary in Weston. Father Palardy's appointment is effective Sept. 2; and he succeeds Bishop-elect Peter Uglietto who will be ordained bishop on Sept. 14 and will then become the Regional Bishop of the North Region of the archdiocese.

When Father William Palardy takes over as rector of Blessed John XXIII National Seminary in Weston he will bring a wealth of academic and pastoral experience to the program of priestly formation at the seminary. He has already served in a number of positions in seminary formation, first on the faculty of St. John Seminary in Brighton (1992-2005) and since then at Blessed John Seminary as professor of patristics and systematic theology and more recently as academic dean.

The only child of the late Francis and Mary (Schwendeman) Palardy, he was born in Boston on Jan. 14, 1960. He was raised in St. Mary of the Hills Parish in Milton, attending the parish grammar school and then going on to Milton Academy and completing his undergraduate work at Harvard University where he was granted an A.B. in 1981. He entered St. John Seminary and four years later on June 8, 1985, another Harvard graduate, Bernard Cardinal Law, ordained him to the priesthood at Holy Cross Cathedral.

For three years he served happily and faithfully at Rockland's Holy Family Parish, before being sent to the Catholic University of America in the Nation's capital for graduate studies in theology, specializing in patristics -- the study of the works of the early fathers of the Church, those theologians and pastoral leaders of the Church in the years following the deaths of the apostles and up to the end of the eighth century. He received a Ph. D. in 1992 after presenting a dissertation on some of the works of St. Peter Chrysologus, bishop of Ravenna and doctor of the Church. He also translated two volumes of the saint's selected sermons as volumes 109 and 110 of the Fathers of the Church series of the CUA Press.

Additionally, Father Palardy is a frequent presenter at various parish and professional groups both here in the archdiocese and as far away as Adelaide, Australia. Among local stops have been Amesbury, Chelmsford, Tewksbury and Whitman.

His curriculum vitae runs to three pages and lists various and many accomplishments in the pastoral, academic and professional fields.

Not leaving his talents hidden he is also a weekend visitor, celebrating Masses at Holy Ghost, Whitman and Sacred Heart, Middleborough.

He served recently as a member of the archdiocesan Priest Personnel Board, which recommends priest for various parish and other ministry positions in the archdiocese. He ceded his Block IV position on this Board to Father George Evans, pastor of St. Julia Parish in Weston once he was named rector at Blessed John.

With this appointment Cardinal O'Malley names a well liked, well respected and admired priest to a key role in the shaping of future priests of our archdiocese and of other arch/dioceses and religious communities both here in our country and well beyond.

For further information about the seminary, its program and staff check out its website: blessedjohnxxiii.edu.

Rectors of Blessed John XXIII National Seminary

Msgr. George A. Schlitche, 1966-1968

Msgr. John J. Mulcahy, 1968-1973

Father James W. DeAdder, 1973-1981

Msgr. Dennis F. Sheehan, 1981-1986

Father Cornelius J. McRae, 1986-1995

Msgr. Francis J. Kelley, 1995-2005

Father Peter J. Uglietto, 2005-2010.