Local Catholics welcome relic's return
---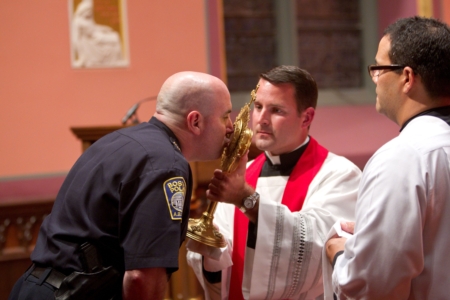 Boston Police Superintendent-in-Chief Daniel Linskey venerates the Relic of the True Cross at a prayer service Aug. 18 in the Blessed Sacrament Chapel at the Cathedral of the Holy Cross. Father Jonathan Gaspar, Cardinal Seán P. O'Malley's priest secretary, holds the monstrance-style reliquary displaying the relic. The relic had been stolen from the cathedral June 30, but was recovered with the assistance of the Boston and Vermont State Police Departments. Cathedral officials held the prayer service to thank God for the relic's safe return and thank local law enforcement for their assistance in its recovery. Pilot photo/Gregory L. Tracy
Help us expand our reach! Please share this article
SOUTH END -- Boston-area Catholics gathered to prayerfully celebrate the return of one of the Archdiocese of Boston's most cherished and prized relics and thank local enforcement for their assistance in recovering it.

A prayer service was held Aug. 18 to mark the return of the archdiocese's Relic of the True Cross and thank the Boston Police Department in their work in finding it. The service was held in the Blessed Sacrament Chapel in the Cathedral of the Holy Cross and was attended by about 50 people from around the Boston area.

The service included a homily by Father Joseph Bagetta, chaplain to the Massachusetts State Police and priest in residence at the Cathedral, and veneration of the relic by the faithful.

Aug. 18 was the Feast of St. Helen of the True Cross, the mother of the Roman Emperor, Constantine who is believed to have found pieces of the cross on which Jesus was crucified.

Kevin Brady, a parishioner of St. Camillus Parish in Arlington who attended the service, compared the absence of the relic from its reliquary at the base of a crucifix in the Blessed Sacrament Chapel to a belief in good triumphing over evil.

"I think there was a hole in believing in goodness versus evil," Brady said. "Anytime you see something of significance missing you become jaded. By them finding (the relic) you realize good does outlast evil."

Prior to the service, Boston police officer Jorge Diaz, whose four children were baptized at the Cathedral, shared similar sentiments.

"I try to teach my children that if you have faith good things will happen," he said. "Today's a perfect example of something good happening."

In his homily, Father Bagetta thanked the Boston Police Department for their work and reminded the people gathered that their faith paid dividends.

"Evil for a moment thought it would win, but the people of faith would not give up," he said.

During the prayer service, attendees also prayed for forgiveness of the person who swiped the relic.

As of press time, it was unclear who stole the relic from the cathedral.

"It's still a mystery," said Father Jonathan Gaspar, co-director of the archdiocese's worship and spiritual life office. "But we remember the words of Christ from the cross, who said 'Father, forgive them, they know not what they do.'"

The relic was stolen from the cathedral June 30 and was turned into Vermont State Police in Royalton, Vt. Aug. 9 by Earl Frost, 34. Frost, a transient, was charged with possession of stolen property and arrested in nearby Hanover, N.H. on a separate charge.

The cathedral's relic was brought from France in the 1800's, a gift from the cathedral's first pastor, Father Abbe de la Poterie.

Father de la Poterie was a French priest who celebrated the first public Mass in Boston on Nov. 2, 1788, a time when Catholics were a minority in the city.